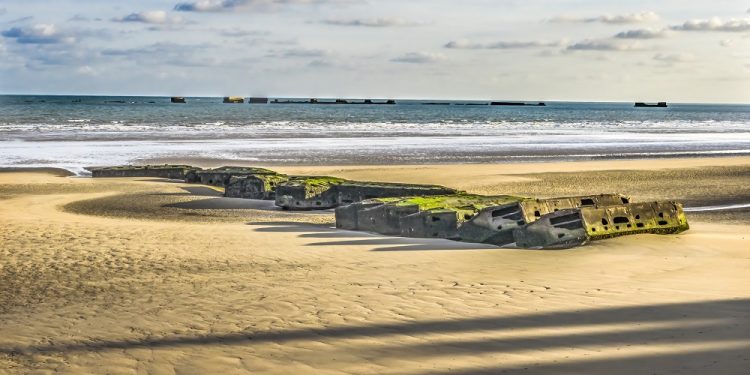 In the United States, D-Day is celebrated in remembrance of the brave soldiers who landed on the beaches of Normandy, France on June 6, 1944. These American and Allied soldiers, some of which were killed in action, fought to liberate northwestern Europe from Nazi occupation and bring an end to WWII in Europe. Over 160,000 soldiers and paratroopers participated in the liberation of Normandy and this day is often seen as one of the main reasons why the Allies won the Western Front.
History of 
D-Day
D-Day was the first day in one of the largest amphibious invasions to have ever been undertaken. It began on June 6, 1944, and launched Operation Overlord – an invasion against the Nazi-held Normandy coastline during World War 2 (1939-1945).
It was launched with 160,000 troops, over 13,000 aircraft and 5,000 ships. By the end of the day, American and Allied soldiers had broken through the Nazi defenses and had a foothold in Normandy.
Unfortunately, it also came at a great price. During the attack, over 9,000 Allied soldiers and paratroopers were either wounded or killed that first day – sacrifices which allowed the other 100,000 soldiers used in the landings to complete the mission. This day is often called the beginning of the end of WWII by historians.
D-Day Customs & Traditions
In the United States, D-Day is an observance day – which means that it is not a federal holiday and federal holidays are not given this day off. It is also not a holiday that is given as a day off to workers in the private sector. However, many people do observe this holiday by visiting museums with D-Day displays. Also, there are often memorials and ceremonies given all over the country on June 6.
People wishing to observe D-Day often do it in a variety of different ways. Some people visit the WWII Museum in New Orleans. This museum was founded in 2000 by historian Stephen Ambrose. It is an almost 180,000 square foot museum that starts the observance of D-Day at 6 am on June 6th, the approximate time the invasion began.
All day during June 6th, real-time briefings are reported at this museum as if they were currently happening. Visitors can also get on board of a Higgins boat replica (an amphibious boat used during the invasion) to get a feel of what the assault may have been like. This museum is also known for showing the first couple of episodes of "Band of Brothers", the HBO miniseries about WWII on this day.
People can also visit the D-Day Memorial in Bedford, Virginia. This monument, which was dedicated in 2001, stands on an 88-acre memorial that features a 44-foot tall granite arch, a reflecting pool and English gardens. Encircling the monument are the names of over 4400 Allied soldiers who died during the invasion. It is considered to be one of the most complete lists of its kind that can be found anywhere in the world.
Another place that is often visited on D-Day is the Normandy American Cemetery in Normandy, France that was dedicated in 1956. This cemetery covers 172.5 acres and contains the graves of over 9,300 dead soldiers, sailors and paratroopers – most of which lost their lives on D-Day.
On the east side of the memorial is the Walls of the Missing – a semi-circular wall which contains the names of over 1500 soldiers who went missing in action on this day. For those soldiers who have been found and identified recently, a rosette marks their names.
Some people choose to celebrate D-Day by watching one of the great movies or miniseries' dedicated to the subject. This includes HBO's Band of Brothers, Saving Private Ryan, The Longest Day and others.