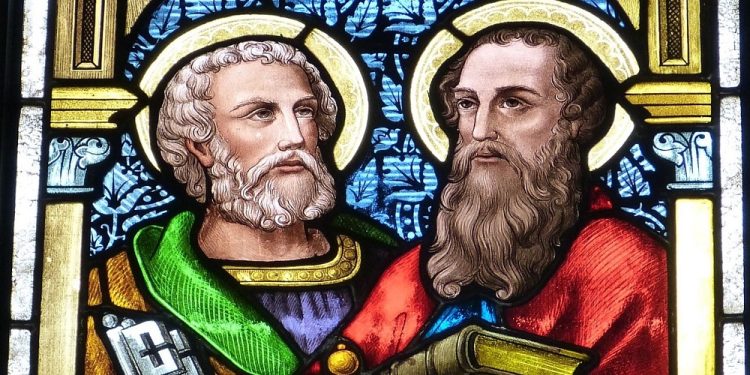 Feast of Saints Peter and Paul
The Feasts Of Saints Peter And Paul is a liturgical feast of the martyrdom of the apostles' Saint Peter and Saint Paul. This day is observed on June 29th and is a day that goes all the way back to the early days of Christianity. The date for this holiday was selected because it was either the anniversary of their death or it was the day in which their relics were translated—or removed from one located and moved to another location. 
In Eastern Christian Tradition
In Eastern Orthodox and some Eastern Catholic traditions, this feast marks the end of the Apostles' Fast. It's a day that doesn't require mandatory attendance. It's a day whereon one can attend Vespers on the eve of this day and the Divine Liturgy on the morning of this day.  
In Western Christian Tradition 
The day is a celebration of solemnity in the General Roman Calendar and is a Holy Day of Obligation in the Latin Church. In the U.S and Canada, it is not observed as a Holy Day of Obligation, but it is observed in England, Scotland, and Wales as one. In Lutheran tradition, the day has the rank of a Lesser Festival. 
Interesting Facts About Saints Peter & Paul
Below are some interesting facts that people wanting to observe this holiday might want to consider. Let's take a closer look at them and allow them to illuminate the origins and history of this liturgical feast a little bit better. 
Peter & Paul Were Apostles In Rome
Although the Gospel had already reached Rome, Peter and Paul decided it was necessary that they journey to Rome and supply the Christian church in the city with the apostolic leadership that it needed. Paul arrived first, and Peter likely arrives at some point during the early 60s. 
Both Peter & Paul Became Martyrs In Rome
During the reign of Nero in the mid-60s, Paul was executed first, followed by Peter. Since Paul was a citizen of Rome, he was given the more merciful death of being beheaded. Paul wasn't a citizen of Rome, so he wasn't beheaded by was instead crucified. Because he didn't feel like he should die in the same manner as Jesus Christ, he asked to be crucified upside down. 
How To Observe The Feasts Of Saints Peter And Paul
Since Saints Peter And Paul are patron saints of Rome, this is an important holiday in that city. It's observed with religious ceremonies led by the Pope of the Catholic Church, and there are often other celebrations in the city including entertainment activities, fairs, and even fireworks. 
For many Christians, this liturgical feast day is a good time to ponder the historical roots of their theological traditions. It's also a good time to celebrate individuals who dedicated themselves to faith and the search for truth.