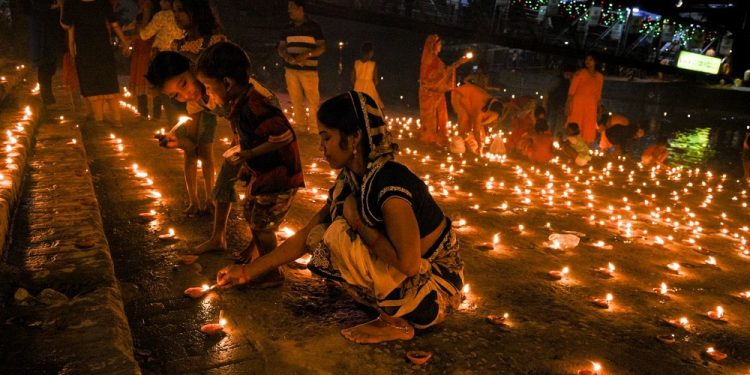 Kartika Purnima is not only a Hindu festival, but it's also a cultural festival for devotees of the Sikh and Jain religions. Also known as Tripuri Purnima and Deva-Diwali, this is an auspicious festival that's held on the Purnima of Kartik on the Hindu Lunar Calendar. Since Kartik is commonly observed as the holiest month on the Hindu Calendar, this is an extremely important holiday.
It commemorates the victory of Lord Shiva over the demon collective known as Tripurasur. Since it's observed by so many religious traditions, there are a variety of different rituals performed on this day, almost too many to cover in this one holiday article.
The Story Of Kartika Purnima
According to the Kartika Purnima Katha, the real world was conquered by the demons Vidyunmali, Viryavana, and Tarakaksha. They were collectively known as the Tripurasur and had defeated the Devatas. The Tripurasur created three cities in space after they had defeated the gods.
However, Lord Shiva killed the Tripurasur with a single arrow on Kartik Purnima to end its rule. When the Devatas hear of this, they marked the day with an enlightenment festival that is called Dev Deepavali—otherwise known as Diwali for the gods.
This festival just doesn't celebrate the defeat of Tripurasur and the joy of the Devatas, however. It's also a day when Vrinda's birthday is celebrated. Vrinda is a sacred plant in Hinduism and is known as Holy Basil in English. It's regarded as an earthly manifestation of the goddess Tulasi. Unsurprisingly, it's also the date when Lord Vishnu's incarnation as a fish happened. Some also believe that it's the birthday of Kartikey, Lord Shiva's son, as well.
The Significance Of Kartika Purnima
As stated by the Sacred Scriptures of Hinduism, this day is extremely important. It's both a religious and a cultural holiday. It's said that devotees who worship Lord Vishnu on this day will gain immense wealth. It's also believed that this day is so advantageous that any puja carried out on this day will be even more successful than it normally would be.
Rituals And Observes On Kartika Purnima
On this day, many devotees will take a holy bath at pilgrimage sights, or at home by adding Ganga Jal to their bathwater.  Devotees will then light either mustard oil or ghee Diyal lamp and worship Lord Vishnu with the appropriate ceremonies. Idols of Lord Vishnu are also worshiped and flowers are heaped on them while incense sticks and clay lamps are lit. Prayers are offered to him on this day and it's said that these prayers help devotees live a peaceful life and overcome their fears.
Of course, since Kartik Purnima occurs during a time when there are many religious and cultural festivals, the holiday is celebrated over a 5-day period. Other festivals are also held and these include Tulsi Vivah, Vaikunth Chaturdashi, and Dev Deepawali to name a few. These festivals all have the same purpose and that's to clean the devotee's soul of sin and invite a positive light into their hearts.