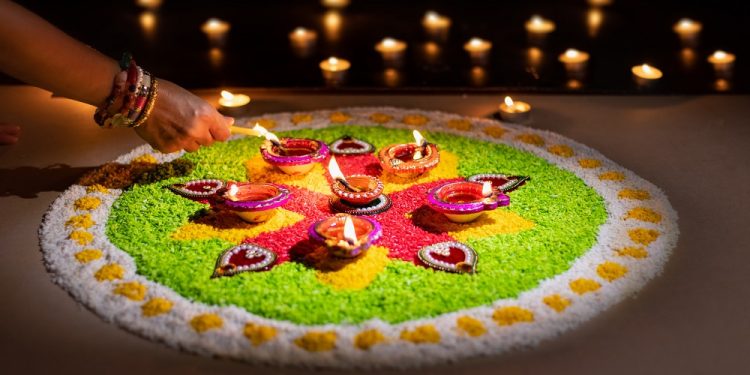 Diwali is a Hindu festival that is celebrated in many different parts of India, as well as other countries throughout the Indian subcontinent and all around the world. It is a spiritual festival that is used to not only offer prayers to Lakshmi –the goddess of prosperity—but also to ritually observe the idea of knowledge over ignorance and good over evil.
The 'Festival Of Lights', as it is sometimes known, is one of the most joyous occasions for Hindus and is also one of the biggest shopping seasons of the year in India as participants buy gifts for themselves, as well as for their friends and families. It's also known by the name Dipoawali and is called the Festival Of Lights.
This holiday gets its name from the rows of clay lamps that Indians light just outside their houses. These lamps symbolize the light of inner spirituality that protects us from the spiritual darkness that threatens to engulf us.
The word "avali" means row and "deepa" means clay lamps, so the two words come together to form the word Diwali. This holiday festival is as important to Hindus as the Christmas season is to Christians.
Although this has traditionally been a holiday celebrated by Hindus, other non-Hindu communities have been celebrating it for quite some time. In Sikhism, the day is used to honor Guru Hargobind Jr—the 6th Sikh Gura and in Jainism, this holiday marks the spiritual awakening (or nirvana) of Lord Mahavira on October 15, 527 B.C.
The History Of Diwali
Even though no one truly knows when Diwali was invented, there are mentions of it in many different first millennium texts and in Sanskrit texts such as the Skanda Purana. It's also mentioned in the Padma Purana and other ancient texts, so it's likely a combination of several different harvest festivals that were observed in ancient India and eventually became fused together.
Much in the same way that Saturnalia and Mithra celebrations fused with Norse Yule Log celebrations to create the Christmas Season for Christians. In the Skanda Kishore Purana, the diyas are mentioned as a symbol of the sun. The sun is described as the cosmic source of light for all life.
In the 7th century, the Indian emperor King Harsha mentions Deepavali. According to his description of the holiday, it's a time when lamps were lit, and brides received gifts. Of course, Diwali is a holiday that isn't just mentioned in Indian sources but is also mentioned by travelers who have traveled to India throughout its history.
In the 11th century, it was mentioned by the Persian traveler Al Biruni and he described the holiday of Deepavali as a festival that's celebrated on the day of the new moon during the month of Kartika by the Hindus. The 16-century Portuguese traveler Domingo Paes also wrote about the holiday.
He described the holiday as being a day that was celebrated in October with many people illuminating their home and their temples with lamps. During the British colonial era, there are several accounts of this holiday as well. For example, Sir William Jones published a note on Hindu festivals at the end of the 18th century.
Jones was a philologist that was known for his observations in Indo-European languages, as well as his observations on Sanskrit. He noted four of the five days of Diwali celebrated during the autumn months.
He listed these days as Bhutachaturdasi Yamaterpanam on the second day, Lacshmipuja dipanwita on the day of Diwali, Dyuta Pratipat Belipuja on the fourth day, and Bhratri Dwitiya on the fifth day. He also noted that Lacshmipuja Dipanwita was a grand night festival that was celebrated by illuminating homes and trees in honor of Lakshmi.
Amazing Facts About Diwali
Over the course of our research for the holiday of Diwali, we came across some interesting facts that we think will interest most people reading this. Below are some of these facts that we discovered and it's our sincere hope that it will help to illuminate this holiday so everyone can have a greater understanding of it.
Gold Is Part Of The Celebrations
For many Indians, it's traditional to buy large quantities of gold during this holiday festival. Why? It's because gold is considered to be auspicious in the Jain and Hindu cultures. It's also a symbol of wealth and social status as well.
There Are A Variety Of Foods Served During Diwali
Although it would be almost impossible to list all of the delectable foods served during this festival, we can list some of the more common foods that are served on this day. Some of the foods served on this day include chai-samosa, Aloo Bonda, Murukku, Gulab Jamun, Sooji Halwa, Paneer Tikka, Namakpare, Rice Kheer, Onion Bhaji, Moong Dal Ka Halwa, Masala Peanuts, Gajar Ka Halwa, Rasgulla, Atta Laddoo, and Batasha.
It's Extremely Popular In The United Kingdom
Diwali is celebrated in Leicester and London every year. This is not surprising considering that Indians make up the largest foreign-born population now living in the U.K. Celebrations are also held in Belfast, Edinburgh, Birmingham, and other multicultural cities across the United Kingdom. These celebrations include not only the traditional Diwali lanterns, but also music, dancing, traditional Indians foods, and fireworks displays.
Customs, Celebrations & Observances For Diwali
Traditionally, Diwali is celebrated over the course of five days. On the first day, many housewives spend the day cleaning their dwellings from top to bottom and then running out to purchase kitchen items or items crafted from gold.
On the second day, homes are often decorated with clay lamps called diyas, and their floors adorned in intricate patterns using colored sand. The third day is marked by a Lakshmi puja, or prayer to Lakshmi, which is then followed by a feast where many different types of foods are consumed.
Afterward, there is often a firework celebration. On the fourth day, family and friends gather to give each other their best wishes for the season and to exchange gifts. The final day is when brothers visit their married sisters where they are greeted with a joyous welcome and served a hearty feast.
In northern India, the holiday celebrates the story of King Rama's return to Ayodhya after he overcomes Ravana. In western India, the festival is a celebration of the day that Lord Vishnu sent Bali—the demon king—down to rule the nether world.
And in southern India, this holiday is a way to celebrate the defeat of the demon Narakasura by Lord Krishna. Although Diwali isn't celebrated by most Buddhists, it is celebrated by the Newar people in Nepal. They revere various deities in Vajrayana Buddhism, so they observe Diwali by giving prayers to Lakshmi.
Many of these Buddhists in the Nepalese valleys celebrate the entirety of the five-day celebration of Diwali as the Nepalese Hindu Diwali-Tijar Festival. This is done as a reflection of the freedom that these Buddhists enjoy in the Mahayana Buddist Tradition. This freedom allows them to worship any deity they see fit if it's for the betterment of the world.