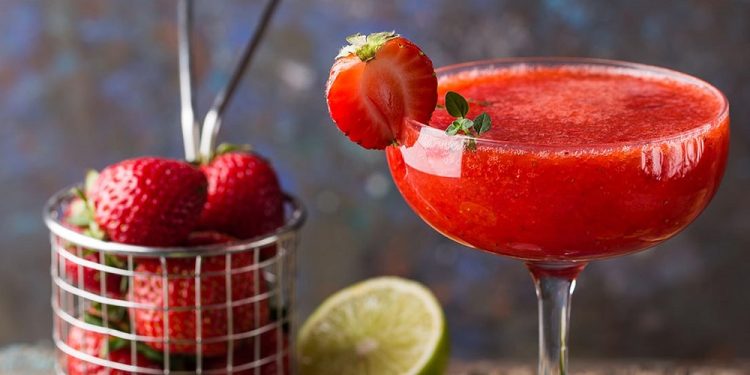 The daiquiri is a drink that's been around for over 120+ years and is a class of alcoholic beverages that use rum as a base, a base that's supported by some type of citrus and some kind of sweetener. It's also a drink that has managed to secure its own holiday: National Daiquiri Day, a day that's celebrated on July 19th every year. Now, all that's left for people to do is to choose the Daiquiri that they like the most. Perhaps, a Papa Doble, a Strawberry Daiquiri, or an SPF Daiquiri is in order. 
The History Of The Daiquiri
Although the history of National Daiquiri Day still eludes us, we do know quite a bit about the alleged history of the drink that's celebrated by this day. According to legend, the daiquiri was invented by Jennings Cox, an American mining engineer who was in Cuba during the Spanish-American War. Another story states that U.S congressman William A. Chanler invented the drink in 1902 after he purchased the Santiago iron mines. The word daiquiri was the name of a beach near an iron mine in Santiago de Cuba, named after the Taino word. Regardless of who or where it was invented, however, this drink is one that's been spun into dozens of different cocktails using a variety of ingredients. It was also a drink that writer Ernest Hemingway fell in love with during his time in Havana. 
The Most Popular Daiquiri Cocktails
We're big fans of the daiquiri, so we wanted to make sure that we listed some of the more popular ones available so that anyone who wants to celebrate this holiday can find a cocktail variation that suits their taste. Below are some of the drinks that we've liked over the years, and the ones that we feel will help people celebrate this holiday in style. 
Papa Doble (Also known as a Hemingway Special)
Frozen Blueberry Mint
Watermelon Lime Daiquiri
Coconut Orange
Classic Strawberry Daiquiri
Frozen Daiquiri
Celebrating National Daiquiri Day
National Daiquiri Day is a holiday that can easily be celebrated by making yourself your own regular or frozen daiquiri. Even people who don't normally drink alcohol can enjoy this holiday by making themselves a virgin daiquiri that has all of the goodness of a daiquiri without the alcohol. It's also a good day for a person to invite friends and family over for a daiquiri party. 
And if a person makes a truly inspired daiquiri, they might want to take a picture of it and post it to their social media accounts using the hashtag #NationalDaiquiriDay. That will ensure that everyone can see the perfect cocktail and can be inspired to take part in this holiday themselves.