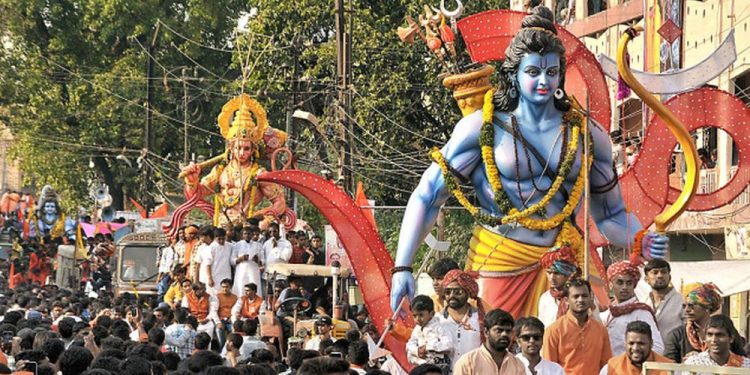 Rama Navami is a Hindu spring festival that is observed on the ninth day of Shukla Paksha (the lunar phase) in the Hindu month of Chaitra — which is the first month of the Hindu calendar. That date on the Hindu calendar places it approximately in March or sometimes April every year on the Gregorian calendar.
This holiday is part of the 9-night Navrati Festival. The holiday festival of Rama Navami celebrates Vishnu's descent as the Rama avatar through his birth to Queen Kausalya and King Dasharatha. This is an important holiday for Hindus and is observed in several different ways including visits to the temple, prayers, and washing miniature statures of the infant Rama.
The Religious Significance Of Rama Navami
Although some people may look at this holiday and think that it's only a birthday celebration for Lord Rama, its significance actually transcends a little bit further than that. It's also observed as a victory of good over evil. It's a day when dharma was established and when adharma was defeated. It's a day to give water offerings to Surya to receive blessings from him. It's believed that the descendants of Surya were the ancestors of Lord Rama.
Holiday Celebrations Of Rama Navami
Celebrating the birth of Vishnu's 7th avatar, Rama, this holiday is observed on the 9th and final day of Chaitra Navaratri. It's observed with devotional worship including religious devotional songs known as Bhajan, and the telling of religious narrative stories about Rama known as Kirtan.
This is also a day for fasting, and many cities observe major celebrations. Some of the cities included in these celebrations include Rameswaram, Sitamarhi, Ayodhya, and Bhadrachalam. A few of these locations will even celebrate this holiday with a wedding anniversary festival of Rama and Sita, and also with chariot processions.
It's important to note that while some Hindus observe this holiday with events at their local temple, many others choose to observe this holiday from their home. This festival is not only a time to celebrate the birthday of Lord Rama but is also used to give reference to other figures who are important to Rama's life story. This includes Hanuman, Lakshmana, and Sita.
In some locations, the holiday is celebrated by the local Mandalis by giving away jaggery and crushed musk melon juice, and other types of food. It's also customary for many people to obtain small statues of Lord Rama, wash them, clothe them, and then place them into miniature cradles. On this holiday, it's also very common for acts of charity to be performed and for meals to be distributed to the less fortunate.
As a part of celebrations, homes are usually decorated with flowers, jewels, and deity idols. It's also a day for people to dress up in their finest, sing devotional songs and recite hymns from Rama Charitmanas. It's a day that not only gives devotion to Lord Rama and other deities, but it's also a day for joy and happiness. It's also a day for families to get together and celebrate the day with one another.