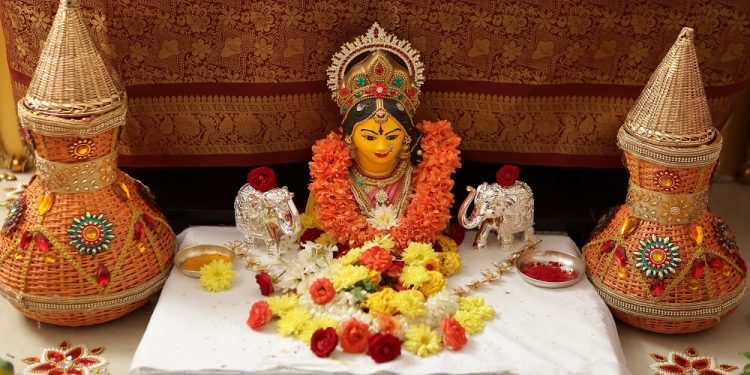 Varalakshmi Vrat is a festival that devotees use to gain favor from the Goddess Lakshmi. Also known as Vara Mahalakshmi Vrata, this is an especially important puja (worship ritual) performed by women in the states of Karnataka, Telangana, northern Sri Lanka, and Andhra Pradesh. It's also observed in Tamil Nadu.
This holiday is observed on the second Friday or the Friday before the full moon day — also known as Poomima — during the month of Shravana on the Hindu Lunar Calendar. This places it approximately in July or August every year on the Gregorian calendar. It's believed that the importance of worshiping goddess Varalakshmi on this day is the same as worshiping Ashtalakshmi — the eight goddesses of strength, wealth, peace, wisdom, love, and fame.
The History Behind Varalakshmi Vrat
According to legend, there was a woman called Charumathi who lived in a town named Kundinyapura. The goddess Mahalakshmi appeared in her dream because the goddess was impressed with her devotion. In the dream, she asked Chraumathi to worship Varalakshmi and work to fulfill her wishes. This goddess is also known as Lakshmi, the goddess of wealth.
According to the dream, she had to propitiate on the Friday of Shravana each month preceding the night of the full moon. After Charumathi explained this dream to her family members, they all encouraged her to perform the puja. Other women in the village joined her in performing this ritual in much of the same way that the goddess Varalakshmi is observed: with sacred chants and with sweets.
The Significance Of Varalakshmi Vrat
The way this religious festival is established is to gain favor from all of the Eight Energies, and this is done by worshiping Lakshmi. The Eight Lakshmi include:
Aadi Lakshmi (the Protector)
Dhana Lakshmi (Goddess of Wealth)
Dhanya Lakshmi (Goddess of Nourishment)
Dhairya Lakshmi (Goddess of Courage)
Vidhya Lakshmi (Goddess of Wisdom)
Sowbhagya Lakshmi (Goddess of Prosperity)
Vijaya Lakshmi (Goddess of Victory)
Santaana Lakshmi (Goddess of Progeny)
When each of these Eight Energies is combined, it's called the Ashta Lakshmis of the Hindus.
Observing Varalakshmi Vrat
Because this is a day when women seek Varam (otherwise known as boons) for health, knowledge, and wealth for themselves and their families, it's observed with a number of important puja's or rituals. These rituals include fasting, ritual bathing, the offering of chants and sweets to the goddess, and offering an object known as a kalasam flowers and gold jewelry.
The Kalasam is used to represent the deity. It's also customary to use a sacred thread that's offered to the deity and worn on the wrists of women after they have completed the puja. This sacred thread, also known as a rakshai, symbolizes the protection of the goddess and the piety of the devotee.