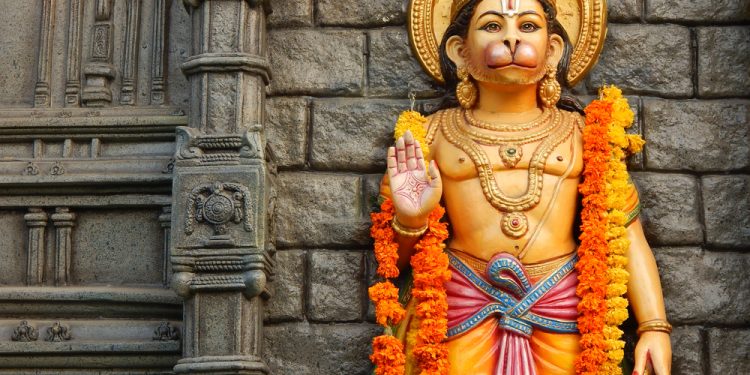 Hanumanh Jayanti is a holiday which commemorates the Vanara god Hanuman and is celebrated on the 15th day of Shukla Paksha – during the month of Chaitra. Although it isn't a gazetted holiday in India, it is still a highly regarded holiday among Hindus everywhere and in India is a restricted holiday – which means that it could potentially be one of the holidays that a person can take, if they wish.
History of Hanumanh Jayanti
Although the true origins of this holiday is lost in time, Hanuman is mentioned in both the Mahabharata & the Ramayana. Scholars believe that this deity can be traced back as far as the 8th century. Over the centuries thereafter, Hanuman began to take form. However, it wasn't until the Middle Ages that he would become very significant.
The Story of Hanuman
According to the origin story of Hanuman, he was born in the forest to the vanaras. His mother was Anjana, a woman who had insulted a sage and was subsequently cursed by him. The curse caused her to transform into a female monkey and could only be removed if she gave birth to a son. Hanuman's father was Kesari–the King of Sumeru.  It is said that Anjana prayed for 12 years to Shiva in order to receive a child. All of this prayer put Anjana in the good graces of Shiva who finally granted her wish by allowing her to become pregnant and then give birth to Hanuman, who also happens to be the incarnation Lord Shiva himself.
When Hanuman was but a small child, he looked upon the sun and believed it to be a mango. A mango which her pursued so he could eat it. What he didn't know, however, was that Rahu was pursuing the sun so he too could eat it. This led them arriving to the sun at the same time, which resulted in an epic clash between the two. When Rahu was pummeled by Hanuman, he then approached the King of Devas, Indra, and complained that a lowly monkey child had stopped him from swallowing the sun; an act he had to accomplish because of the scheduled eclipse. This made Indra very angry and Indra threw a thunderbolt at Hanuman. The thunderbolt struck him in the jaw, disfigured him and he fell back to the earth.
Hanuman's heavenly father, Vayu, was furious that Indra would be so insolent to injure his son, so he stopped all the winds of the earth from blowing. This endangered all the lives on the planet because without fresh air one cannot live. That is when all of the gods went to Vayu to talk him into restoring the winds. When Vayu wouldn't listen to what they had to say, they then decided to bestow upon Hanuman all kinds of special powers such as courage and invincibility. Placated, Vayu then decided to restore the winds.
Hanumanh Jayanti Customs & Celebrations
During this holiday, devotees visit the temple of Hunuman to pray and to offer up red hibiscus flowers or a rice flour balls called Sharkkara Unda. The day is often marked by periods of chanting and the recital of the names of Lord Ram. All of which is considered to be very lucky. Many people end the day with a special feast and by visiting with their friends and families.