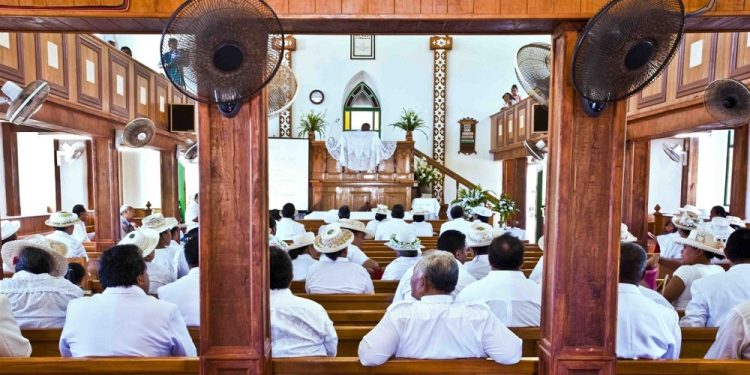 Gospel Day in Cook Islands
Observed annually on October 26th in the Cook Islands, National Gospel Day is a holiday that celebrates the date when Christianity was brought to the islands by Reverend John Williams, a missionary, in 1821.
All across the islands, special religious services are held that both native islanders and sometimes tourists can attend. And to finish off the day, there are special fire shows and firework displays that everyone can also enjoy.
Another ongoing activity that can be heard all day long during this event is the singing of religious songs. Some participants not only sing in church but also on their way to and from church on this day.
The History Of National Gospel Day In The Cook Islands
People have inhabited the Cook Islands for over a thousand years, but the first European contact wouldn't occur until the end of the 16th century.
The islands had continuous contact with European powers from that point on. In 1821, Reverend John Williams and his wife headed arrived at the archipelago and landed on the island of Aitutaki.
This was the second most popular island in the chain. They spread Christianity throughout the island and it quickly spread to Rarotonga, the largest island in the archipelago, and other islands. Nowadays, the vast majority of those living on the island are Christian.
Interesting Facts About The Cook Islands
Anyone looking for a few interesting facts about the Cook Islands might want to stick around. That's because we've decided to list some of the things that we learned while doing the research for National Gospel Day. Let's take a quick look at them before proceeding with this holiday.
Although the islands are named after Captain James Cook, a British maritime explorer who mapped the South Pacific, he never actually visited the islands.
The Cook Islands are made up of 15 islands that have a combined landmass of only 237 kilometers.
The Maoris of New Zealand originated from people who came from the Cook Islands.
Less than 171,000 people visit the Cook Islands each year.
No building in the Cook Islands can be taller than a coconut tree.
The Cook Islands are the second largest producer of black pearls in the entire world.
Observing National Gospel Day In The Cook Islands
This is a day for going to church, singing religious songs, and spending time with family. This day also includes reenactments of the arrival of the first Christians, the retelling of biblical stories, parades, and family dinners. Word of this day can also be spread through social media using the hashtag #NationalGospelDay.