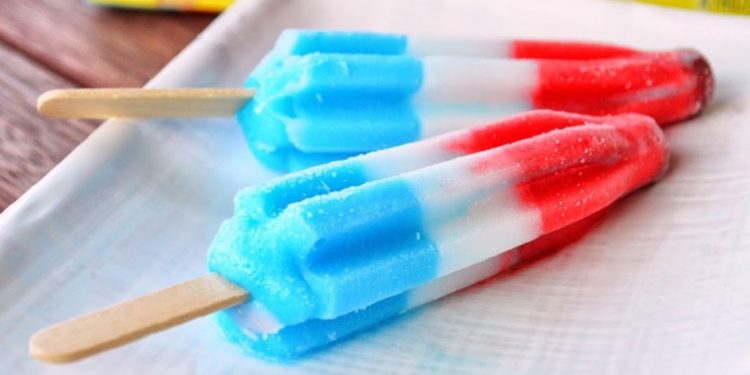 Every summer, countless children all over the U.S wait anxiously to hear the musical sounds coming from their local ice cream truck. Once those ice cream trucks do arrive, one of the most popular ice cream treats that children will buy are bomb pops—those delicious rocket-shaped frozen confections with the red, white, and blue design. It's such an iconic summertime treat, that the humble bomb pop has even received its own holiday. A holiday that's called National Bomb Pop Day and is celebrated on the last Thursday in June.
The History Of The Humble Bomb Pop
Since we were unable to uncover the origins of National Bomb Pop Day, we thought that we'd regale our readers with a short history of the bomb pop. If you have ever wondered who invented this frozen confection, then follow along with us as we lay out its history. 
The Bomb Pop was invented by James S. Merritt and D.S. Abernethy on July 30, 1955, in Kansas City, Missouri. Their original frozen pop was red, white, and blue like it is today, and the flavors used in it are cherry, lime, and blue raspberry. They sold quite a few of these Bomb Pops over the years, but Merrit Foods eventually closed down in 1991. Their Bomb Pop division was then sold off to Wells Enterprises in Iowa. And that's where they're still made in a plant in La Mars, Iowa. 
Facts About The Bomb Pop
We uncovered quite a few facts about bomb pops, facts that we would like to share with everyone now reading this. Let's take a look at them before talking about how National Bomb Pop Day can be celebrated. 
In 1989, Popsicle released a competing patriotic pop called a Firecracker Pop.
Firecracker Pops featured the flavors cherry, blue raspberry, and white lemon.
Bomb Pops feature the flavors cherry, lime, and blue raspberry. 
Bomb Pops and Firecracker Pops would end up having a "war" between them that lasted until 2014.
Nestle also makes a cherry, white lemon, and blue raspberry pop in a red, white, and blue configuration.
Nestle's pops are called Triple Rockets.
Observing National Bomb Pop Day
The best way to celebrate this holiday is by enjoying yourself a Bomb Pop or buying some for your children. Bomb Pops can not only usually be bought from ice cream trucks that roam urban areas in the U.S, but they can also be bought at many grocery stores. If you can't find a Bomb Pop near you, you can always check the Bomb Pop website to find a location where it might be sold near you.