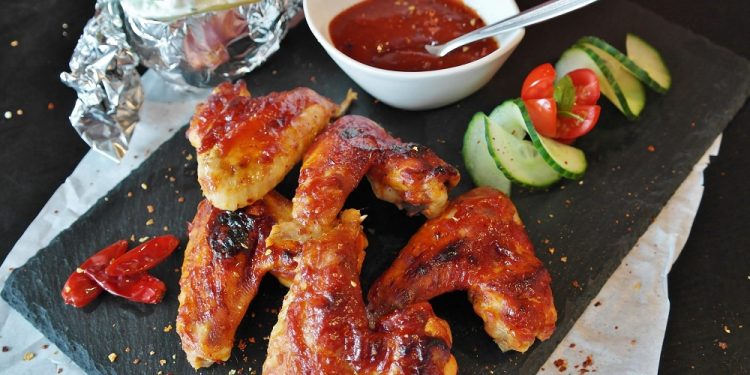 National Chicken Wing Day
National Chicken Wing Day is an annually celebrated holiday which falls on July 29th and celebrates one of the most popular appetizers in America. It's a day on which many Americans grab some wet-wipes to clean up the mess they make after consuming their part of the 1.25 billion chicken wings that are consumed just during the Super Bowl. So if you're a fan of these bite-sized morsels and want an excuse to eat even more of them, then this holiday might be one you'll want to celebrate.
History of National Chicken Wing Day
While humans having been eating the wings of chickens (as well as every other part), most people will tell you that Buffalo chicken wings were invented in Buffalo, New York. And if you go to Buffalo, then you are likely to hear the story about the creator of the Buffalo chicken wing, Teressa Bellissimo.
As the story goes, Teressa owned a bar with her husband Frank called the Anchor Bar and it was at this bar that the Buffalo chicken wing was created. One day, in 1964, her son came in and wanted something to eat, but all she had were chicken wings that were supposed to be made into broth.
She decided to go ahead and deep-fry the wings and then toss them in butter and hot sauce. It was an instant hit and the restaurant soon began selling Buffalo chicken wings. Customers were blown away by the chicken wings and began to come into the bar in droves.
Pretty soon, a number of her competitors began offering Buffalo chicken wings as well. It eventually spread all over the country. It had become so successful, that by 1977, the Mayor of Buffalo had declared that July 29th be used to honor the chicken wing. And from there, it became a holiday celebrated by hungry chicken wing fans ever since.
Facts About Chicken Wings
During the Superbowl season, the price of chicken wings usually rise
Hooters sells more than 30 million pounds of chicken wings a year
The average American eats 12 chicken wings per sitting
The Southern U.S consumes the most chicken wings in the country
The average American eats 90 wings per year
The most popular dipping sauce for wings is ranch dressing
Celebrating National Chicken Wing Day
The best way to celebrate National Chicken Wing Day is to spend the day eating chicken wings. All you have to do is decide on which type of chicken wings you want to eat. Do you want to stick with Buffalo chicken wings or  BBQ chicken wings, both traditional favorites, or do you want to try something a little more exotic maybe? Well, it all depends on you and your personal preference.
Another plus to celebrating this holiday is that many of the restaurants which serve chicken wings give out either free wings to their customers or give their customers a steep discount. So be sure to head to check out the deals your local wing joint has on this holiday. Just be sure to celebrate this day with plenty of wet-wipes, you're going to need them.