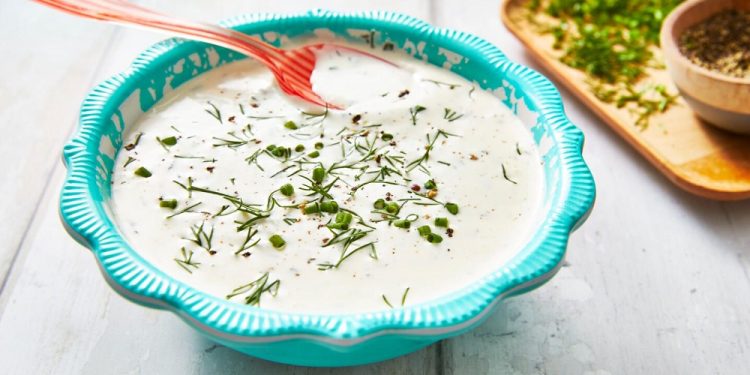 National Ranch Day is a holiday that's observed annually on the 10th of March. Judging just by its name, many people would be justified in thinking that it's a day dedicated to an area of land that is dedicated to the practice of sheep and/or cattle. You know, a ranch.
However, if that was their assumption, then we're sorry to have to tell them that this holiday is actually about the American salad dressing that's made from buttermilk, salt, garlic, onion, herbs and spices, and mayonnaise (or another oil emulsion).
Yes, you read that right. This is a holiday dedicated entirely to Ranch, so people who aren't very fond of this condiment might want to find something else to do as we all find new and interesting ways to incorporate ranch into our meals.
The History Of National Ranch Day
Although we were unable to uncover the history of National Ranch Day, we are pretty familiar with the history of Ranch, so we decided to cover that in this section. Ranch was invented in 1949 when Nebraska resident Steve Henson moved to Anchorage, Alaska with his wife.
He worked for over three years in the Alaskan bush where he was in desperate need of having something he could give his work crews to keep them happy. This is when he invented the salad dressing Ranch. According to legend, this dressing was immediately loved by workers.
After some success with his plumbing business,  Steve Henson retired at the age of 35 and moved to Santa Barbara County in California. However, his retirement in California didn't make him content as he soon became bored with the "retired life." This is when he purchased the Sweetwater Ranch in San Marcos Pass, California in 1956.
A ranch that he would rename Hidden Valley. As Steve was creating the menu for Hidden Valley, he decided to include the Ranch dressing he invented on it. Customers took a liking to it immediately and so he decided to mix a batch for his friend Audrey Ovington. Audrey owned Cold Spring Tavern and would become the first business customer for the dressing.
This led Steve to think of the commercial possibilities for his product and by 1957 he had a packaged Ranch mix that was offered in various stores. Steve began selling the Ranch dressing packets by mail for 75 cents each and they immediately became a hit. By the middle of the 1960s, his mail-order Ranch Dressing business was thriving.
Eventually, the Ranch operation was too big to continue at Hidden Valley and he opened a factory. Eventually, the formula for Steve's ranch and the Hidden Valley brand was bought by Clorox for a sum of about $8 million. This prompted Steve to once again go into retirement.
Over the years, Clorox reformulated the original Hidden Valley Ranch Dressing recipe several times. Buttermilk was included in the flavoring, and in 1983, they developed a non-refrigerated bottle formula that was shelf-stable. All throughout the 1980s, Ranch dressing flavoring became extremely popular.
This prompted the release of Cool Ranch Doritos in 1987, and seven years later, the release of Ranch Wavy Lays. The trend of using Ranch flavors continued through the 1990s with it being incorporated into a number of different products. The Clorox subsidiary Hidden Valley Manufacturing was producing Ranch packets and bottled dressings from two large factories as of 2002.
Observing National Ranch Day
In our opinion, the best way to observe National Ranch Day is by taking the time to use Ranch Dressing throughout the day. Ranch Dressing is a salad dressing, so the most obvious way to use it is by putting it on a nice chopped salad. Of course, that's not the only way to use it.
It can also be used to make Cheddar Bacon Ranch Corn, Ranch Cauliflower Bites, Chicken Bacon Ranch Pitas, BLT with Ranch Salad, or just by using Ranch Dressing as a dip for pizza, pizza rolls, or even French fries. There are about a million ways to use Ranch, so let us know what you decided to use this condiment for using the hashtag #NationalRanchDay on social media. Bon Appetite!