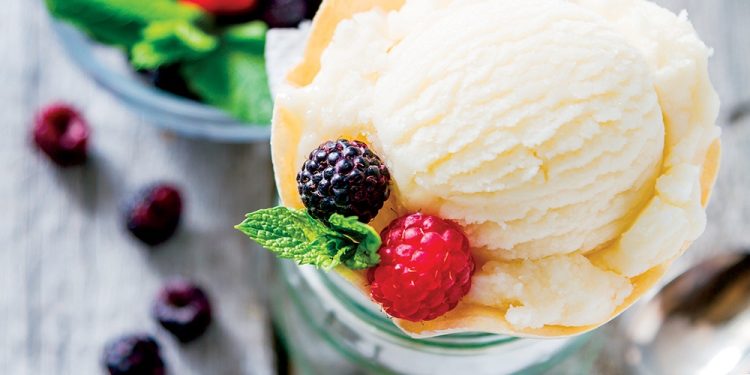 National Frozen Custard Day
National Frozen Custard Day is observed on August 8th every year and celebrates a dessert that exists somewhere between ice cream and custard.  Ice cream is a dish that's made with milk and/or cream, and frozen custard is also made from milk and cream. The biggest difference between the two, however, is that frozen custard also contains egg yolks and is churned in a machine that doesn't add a lot of air to the mixture. The result is a thicker and more dense dessert that almost everyone loves the moment they try it. 
The History Of Frozen Custard
Frozen custard can be traced all the way back to 1919. This is when ice cream vendors Archie and Elton Kohr decided to add egg yolks to the ice cream they were making in Coney Island, New York. They noticed that when they added the yolks, the mixture had a smoother texture and the ice cream stayed colder longer. That allowed them to sell it for a longer amount of time in the sweltering heat of summer on the boardwalk. 
Although frozen custard saw a modest amount of popularity between 1919 and the 1930s, it wasn't until Prohibition that it became really popular. That's not only because the 1933 World's Fair In Chicago introduced the Midwest to frozen custard, but many of the breweries that had traditionally manufactured alcohol began to make items such as cheese, soda, and/or frozen custard to keep themselves in business. This was especially true for the breweries in Wisconsin that had access to large amounts of dairy products and ice. 
List Of Frozen Custard Companies Across The U.S
One of the first things that people ask when they learn about frozen custard is where they can buy it. And fortunately, we are able to answer that question. All over the U.S are companies that sell a variety of different types of frozen custard. Below are some of the ones we wanted to mention. 
Abbott's Frozen Custard in Rochester, New York
Andy's Frozen Custard
Double Rainbow in San Francisco, California
Shake's Frozen Custard
Shake Shack
Ted Drewes in St. Louis, Missouri
Observing National Frozen Custard Day
Since we've listed some places where frozen custard can be bought, there's no reason why anyone should not be able to celebrate this holiday. And since many frozen custard locations use a variety of fruits, nuts, and sauces to flavor their products, the variety is almost endless. So grab your favorite type of frozen custard and then use the hashtag #NationalFrozenCustardDay on your social media accounts to let everyone know you're celebrating this holiday.