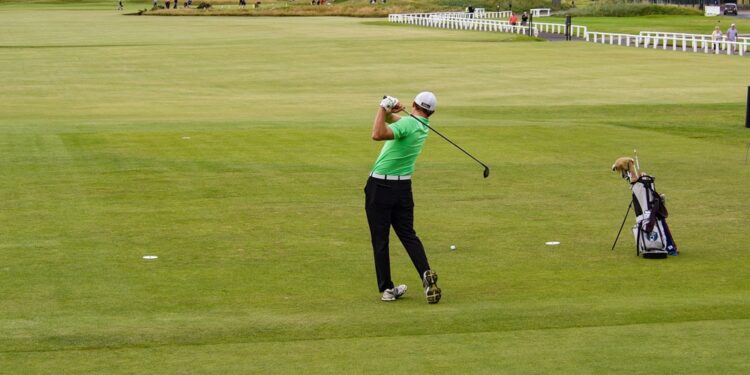 The history of golf is one that appears to be lost to history. Although most historians believe that the modern game of golf can be traced back to 15th century Scotland, that game is based on an older game whose history appears to go back to ancient times.
Some scholars believe that it might even go back to ancient Rome — to a game known as paganica. That game was played with a bent stick and a leather ball. Of course, lacking an academic background, we can't speculate on the origins of golf.
What we can do, however, is to encourage everyone to discuss it while they're playing golf during National Golf Month. This month occurs in August and celebrates everything golf-related, including its ancient origins.
The History Of National Golf Month
This month was first created in 1993 by the Professional Golfers' Association of America (PGA). They created this month to promote golf as a sport that everyone could enjoy, regardless of their age or athletic background.
They also wanted to promote the fact that golf is a fun activity for families to enjoy together. This month has since been celebrated every August to promote those goals.
Some Entertaining Facts About Golf
As some people may have guessed from reading our other holiday articles, we love trivia. We love it so much that we can't help but add some to every article we come across. And this article is no different. Below are some facts about golf that we feel everyone will appreciate. Let's take a look at them and open up some golf-related discussions.
According to historians, modern-day golf was invented in Scotland in 1457.
In Musselburgh, Scotland, the first round of women's golf was played in the year 1811.
In the early 19th century, golf balls were made of leather-wrapped feather balls.
In the middle of the 19th century, golf balls started to be made out of wood.
The average golfer has a 12,500 to 1 chance of scoring a hole in one shot.
The chance of making two hole-in-ones in a single game is 67 million to 1.
Observing National Golf Month
National Golf Month is best enjoyed with friends and family. This is a month to gather together your loved ones and take them out on the green. It's also a good month to encourage someone who has never played golf to play golf.
And of course, it's a month to promote golf and this can be done using the hashtag #NationalGolfMonth. By the way, social media is the perfect place to discuss the true origins of golf, or at the very least, to start a golf history argument.