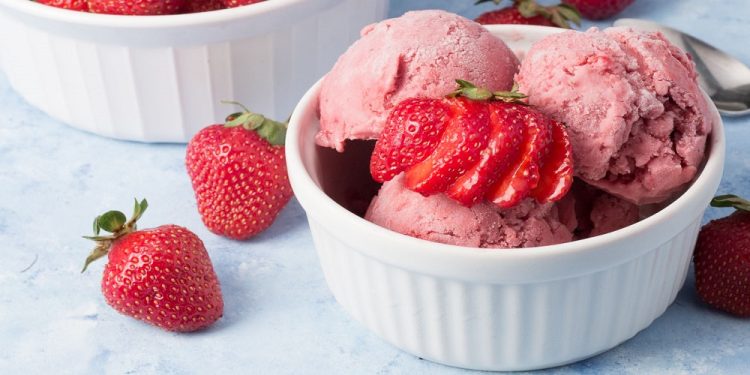 National Strawberry Ice Cream Day
January 15th might seem like an odd time of the year to place a holiday dedicated to a particular type of ice cream because it's in the dead of winter, whoever created National Strawberry Ice Cream Day thought it was perfect. It's a day on which people are encouraged to make themselves a bowl of ice cream and either enjoy it by themselves or with loved ones. Sure, it might seem to be a little cold for ice cream, but once you've started eating it, you'll forget all about your chattering teeth. 
The History Of Strawberry Ice Cream
Ice cream is a food that goes back as far as 550 BC to Persia. During this time, ice was collected and used to make sorbets that were mixed with various fruits, wines, and honey. From these humble beginnings, ice cream is believed to have spread all through Asia and Europe thanks to Arab trade routes. 
In the U.S., ice cream was enjoyed by some people during the 18th century. Many times, this ice cream was topped with strawberries, although there wasn't a true strawberry ice cream at the time. Strawberry ice cream would be invented some time between the 18th and 19th centuries. We know that because U.S President James Madison had strawberry ice cream served at his second inauguration. Nowadays, strawberry ice cream is not only popular stand-alone ice cream but is also a popular addition to Neapolitan-style ice cream. 
Fun Facts About Strawberries And Ice Cream
Although we couldn't uncover any interesting facts about strawberry ice cream, we did find plenty of information about strawberries and ice cream separately. Let's examine a few of these, shall we?
The average strawberry is covered in 200 seeds.
Americans consume about 3.5-pounds of strawberries per person each year.
The ancient Romans thought strawberries had medicinal value. 
The strawberry is a perennial plant. 
To make a gallon of ice cream, it takes about twelve pounds of milk.
Ice cream production began in the U.S during the mid 19th century.
The average American consumers almost 46-pints of ice cream a year. 
Vanilla is the most popular ice cream flavor followed by chocolate and then by strawberry. 
Observing National Strawberry Ice Cream Day
Observing this holiday is as easy as making yourself a bowl of strawberry ice cream. While you're enjoying this type of ice cream, don't forget to use the hashtag #NationalStrawberryIceCreamDay to let the world know about this day.