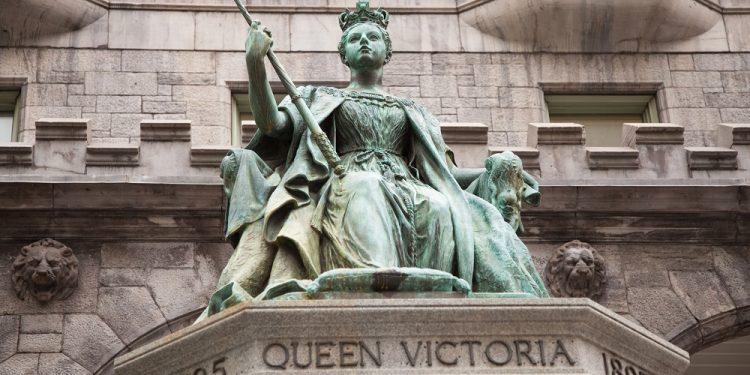 Queen Victoria, queen of England between 1837 and 1901, has a special place in the hearts of many Canadians. Not only was she a popular monarch among a population that remained loyal to the throne after the American Revolution, but she was the monarch who granted Canada its early independence in 1867 – an independence that kept the Queen as the official Head of State of this new country.
Queen Victoria's birthday, on May 24th, was celebrated and recognized as early as 1845, just seven years after her assent to the throne. Various celebrations continued throughout her reign, usually consisting of gatherings outside Government buildings to 'give cheers to the queen'.
Military salutes, parades, athletic competitions, fireworks and picnics came to mark the day, which by the end of her reign was recognized as a 'patriotic holiday'. It is perhaps no coincidence that this day was so popular for celebration, coming as it does (at least in Eastern Canada) at the beginning of the summer season, with warmer temperatures and flowers in bloom to mark the end of another cold winter.
Following the death of Queen Victoria, May 24th legally became Victoria Day and by 1904 was declared Empire Day in all countries of the British Empire. In the 1950s, Empire Day was renamed Commonwealth Day and moved to the second Monday in March, and Victoria Day (by then also knows as the Queen's Birthday) was fixed as the Monday before May 25th.
Victoria Day is a statutory federal holiday and is also recognized in most Canadian provinces and territories. It is a peculiarly Canadian holiday, being celebrated nowhere else in the Commonwealth – not even in the UK.
In the province of Quebec
Known as Fête de la reine in Quebec, the holiday has had a chequered history in that province. In the 1960s, as the province underwent a nationalist movement, the government of Quebec renamed the day Fete de Dollard, after Adam Dollard des Ormeaux.
Dollard des Ormeaux was a French colonist who died while defending an Iroquois attack on Montreal (then known as Ville-Marie), and was credited with resisting the attack. In 2003, the Quebec government declared the Monday before May 25th "Journée nationale des patriots" – National Patriots Day.
This is to honour the actions of Quebecois nationalists in the unsuccessful Lower Canada Rebellion of 1837-38, when Quebecois and English-speaking nationalists attempted to take independence from the colonial power of Britain. Therefore, while the Canadian federal government celebrates Queen Victoria's birthday on this day, the Quebec provincial government celebrates an attempt to overthrow her.
How is it Celebrated?
Today, Victoria Day is particularly marked by large fireworks displays in many cities and towns. People picnic on what is hopefully a sunny day. Among many city Canadians there is a long-standing habit of owning a small cottage in a rural area, often along a lake or scenic location, for use during the summer.
These cottages are rarely used in winter as they often lack heating. The Victoria Day weekend is a traditional time to 'open the cottage', repair any winter damage and prepare the cottage for summer use. Canadian Thanksgiving weekend is the traditional end of 'cottage season'.
When is Victoria Day?
Victoria Day is a floating holiday and is always observed on the Monday before May 25th in Canada.