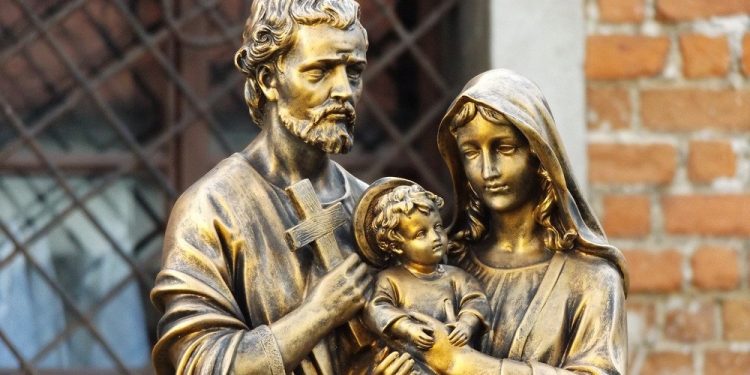 The Feast Of The Holy Family is a religious holiday that mainly celebrates the sanctity of the holy family (Jesus, Mary, and Joseph), but also celebrates the family unit. It's observed on the Sunday after Christmas, or if Christmas falls on a Sunday, then it's observed on December 30th instead. Devotion to the Holy Family became more popular during the 15th century, and they appeared prominently in works of art during this period of time. It was during this time that the Holy Family was presented as the ideal for Christian families and that purpose continues to this day.
The History Of The Feast Of The Holy Family
Although little is known about the lives of the Holy Family from canonical sources, it has been a source of great interest among Christians for hundreds of years. During the 1490s, veneration of the Holy Family gained in popularity and it became a central focus for many works of art of the time. Since 1921, the Feast of the Holy Family has been a liturgical celebration in the Catholic Church—ever since it was added into the liturgical calendar by Pope Benedict XV. Ever since 1969, the Feast Of The Holy Family has been celebrated in the General Roman Calendar and during the season of Christmastide.
The Feast Of The Holy Family Through Art
During the 15th and 16th centuries, artists became fascinated by the Holy Family as a subject. This was especially true in Italian Renaissance painting and through Flemish Renaissance and Dutch paintings. This coincided with an increased interest in Joseph during this time and resulted in an uptick of devotion to Jesus' foster-father as well. This was most likely due to a correction of the Medieval view of Joseph as being somewhat of a comic figure.
Observing The Feast Of The Holy Family
The Feast Of The Holy Family is celebrated in several ways—both in the Catholic Church and among individual parishioners. There are usually services and prayers held on this day, and many Christians write notes to Jesus, Mary and Joseph to appeal to them for a blessing from their family to their family. Some Christians also work through various charitable organizations to help families in need.
This is a day for people to reflect on their own family life as well. It's a day on which people can think about how they can strengthen communication between all family members and how to heal past wounds. It's also a day on which people can reflect on the virtue of their family in comparison with the Holy Family.