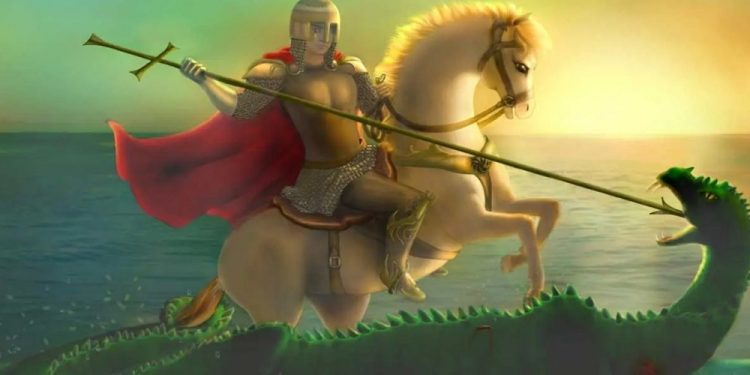 In Aragon, Spain, St. George's Day is celebrated as the Day of Aragon—also known as Dia de Aragon in Spanish. This holiday is observed annually on April 23rd and commemorates the patron saint of the city, St. George. If April 23rd falls on a Sunday, regional or local authorities may move the public holiday to a different date. In this autonomous community, it's a public holiday, so government offices, schools, and many businesses are closed for the day.
It's a day on which people will go to special church services in honor of St. George, attend one of the many floral displays that look like Aragon's flag, and have communal meals. It's also a day in which people attend concerts and other musical and/or cultural performances, and partake in political demonstrations.
The History Of The Day Of Aragon
During the 3rd and 4th centuries, Saint George was a cavalryman in the Roman army serving at Lydda—an area that would eventually become Israel. While Emperor Diocletian was notoriously anti-Christian, St. George was actively a Christian. As such, he refused to make sacrifices to Roman Gods, an act that angered the emperor.
For this transgression, St. George was tortured over the course of several years and was beheaded in 303 AD. He would then be venerated in the Catholic Church, the Eastern Orthodox Church, the Oriental Orthodoxy, the Church of the East, and Lutheranism. His memorial holiday, St. George's Day has been observed since the Crusades. He's also been the patron saint of Aragon since the beginning of the Crusades in 1096.
Observing The Day Of Aragon
On this public holiday, many citizens of Aragon will have the day off. The flag of Aragon will also be displayed all across this autonomous community—with flags hanging from private residences and businesses. There are also beautiful floral displays in the shape and colors of the Aragon flag that people can enjoy.
People also visit church services, enjoy communal meals and enjoy one of the many activities that can be enjoyed. On social media, #DiadeAragon is often used to spread the word about this holiday beyond the borders of this autonomous community.