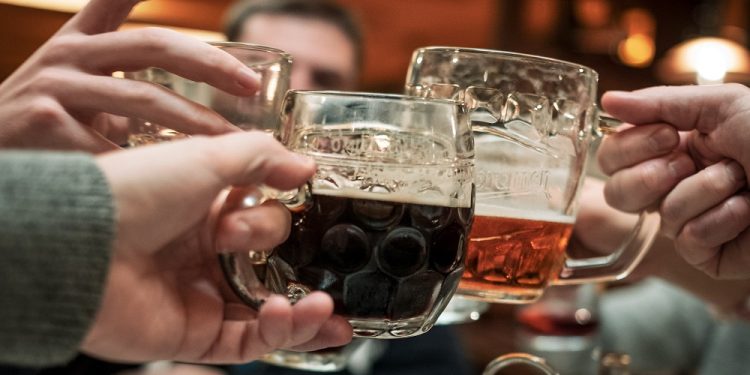 DrinksGiving is a holiday that's celebrated the night before Thanksgiving every year. Also known as Blackout Wednesday, this holiday is one in which adults pack into their local bars before they head off to have Thanksgiving Dinner with their families.
Although this is a holiday that's been around for decades, it didn't officially get its name as an unofficial holiday until very recently. Regardless, we encourage everyone who plans on celebrating this day to be very careful with their alcohol consumption.
Everyone should drink responsibly and make sure that they have a designated driver for the night. After all, this is supposed to be a day during which people are supposed to have fun with their friends, and not a day that ends in tragedy.
The History Of DrinksGiving
This holiday is one that's been observed for at least 3 decades, if not longer. We're not exactly sure when people started flocking to bars to hang out with friends the day before Thanksgiving, but it does appear to have been around for a while — although people didn't have a specific name for the day.
Spending time with friends on the Wednesday before Thanksgiving does make sense, however. It's a day when people don't have to work the next day (usually), so it does make sense that it's a day for letting loose.
In 2007, the day was given several different holiday names. It's been called Blackout Wednesday, Black Wednesday, and of course, DrinksGiving. It really didn't catch on "officially" until 2014, however.
This is when it began to show up in Google searches. A few years after that happened, a movie was released called DrinksGiving (2016) and it starred Pamela Mitchell, Jacob A. Ware, and Keylor Leigh. This movie caused the popularity of this holiday to rise even more.
Some Quick Facts About Booze
Below are some quick facts about booze that we dug up while researching DrinksGiving. Let's take a look at the following facts before moving on with the observance of this holiday.
It's been estimated that 20% of all Top 100 Country Music songs refer to alcohol.
The most popular alcohol in the world is vodka. Over 5 billion liters are consumed every year.
A bottle of champagne has 90 PSI of pressure. That's almost 3 times the amount of pressure in a car tire.
Observing DrinksGiving
A lot of people will visit their local pub, bar, or tavern to enjoy a night of fun and drinking with their friends. Everyone who does that should make sure that they don't drink on an empty stomach, don't overindulge too much, and have a designated driver to drive everyone home. It's also a good idea to let people know where the party is going to be by using the hashtag #DrinksGiving on social media.