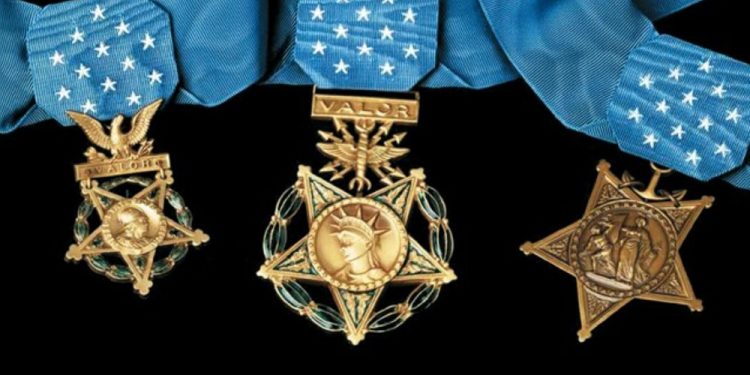 National Medal of Honor Day
One of the highest and most prestigious military decorations that the United States gives to service members is the Medal Of Honor. This award is given to people who show the highest level of heroism and sacrifice to their country. On March 25th, National Medal Of Honor Day is celebrated to recognize the sacrifices of those who received this award. 
The History Of National Medal Of Honor Day
This holiday was first celebrated in 1991, when George H.W Bush signed Public Law 101-564 and proclaimed March 25th to be National Medal Of Honor Day. This law had just been passed the previous year when the 101st U.S Congress passed it in the fall of 1990. It's a holiday that's been celebrated every year since. 
The History Of The Medal Of Honor
The first Medal Of Honor ever to be established was one introduced for the Dept. Of Navy in 1861. This was followed by the Dept. Of Army's version the following year. On March 3, 1863, Congress would make the Medal of Honor a permanent decoration and was authorized for U.S Army officers. Over the years, this award would change somewhat—at one point being made out of copper and coated with bronze. Today, this military award is considered to be the highest award a service member can receive in the U.S military. 
Interesting Facts About The U.S Medal Of Honor
We've found some interesting facts about the Medal Of Honor, so we decided to list some of the more fascinating ones below for all of our readers to enjoy. 
Only one woman has ever received the Medal Of Honor—her name was Mary Edwards Walker.
The General-in-Chief of the Union Army during the Civil War scoffed at the idea of the Medal Of Honor—saying that it was too reminiscent of European military tradition.
The only U.S President to receive the Medal Of Honor was Theodore Roosevelt—he received the award post-humorously. 
The youngest soldier to be awarded a Medal of Honor was just 11-years old. His name was Willie Johnston.
This award might be called a Congressional Medal Of Honor by many people, but it's actually named just the Medal Of Honor. 
Observing National Medal Of Honor Day
A person can observe this holiday by making sure that they remember Medal Of Honor winners on this day. It's a good day to learn about the history of this medal and the people who have received it over the years. All over the United States, Medal of Honor celebrations are held also. It's also a good day to use the hashtag #NationalMedalOfHonorDay on your social media accounts to give thanks to Medal of Honor recipients and to raise the profile of this day.