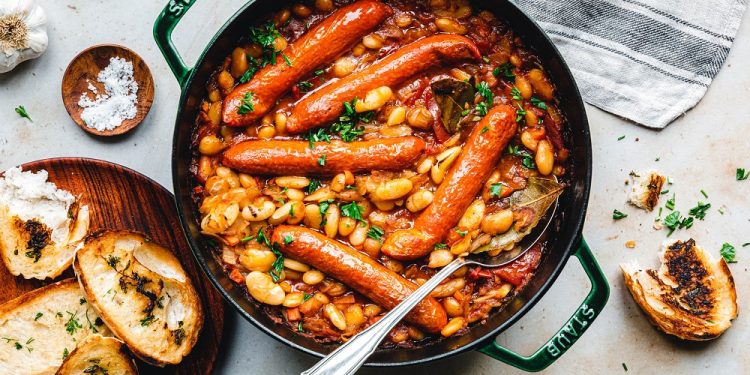 A cassoulet is a casserole or stew that originated in southern France and is named after the cooking vessel it's cooked and/or served in: the casserole dish. This particular type of casserole is always made with white beans, goose or duck confit, sausages, and some type of additional meat such as mutton or pork.
It's a dish that has recently become very popular, as evidenced by the fact that a holiday called National Cassoulet Day was invented. This holiday falls on the 9th of January each year and is the perfect day to enjoy this hearty dish.
The History Of National Cassoulet Day
According to lore, the first cassoulet was created in the city of Castelnaudary. Supposedly, it was created while the city was under siege by the British during the 100 Years' War. The people in this city gathered together all of the ingredients that they could and created a hearty stew that was used to feed the defenders of the city.
Nowadays, cassoulet is treated in southern France much in the same way that chili is treated in Texas. There are numerous cassoulet competitions and cook-offs and people tend to argue over where the best versions of this dish are made.
Unfortunately, we're unable to uncover who invented National Cassoulet Day or exactly when it originated. It's been around as an "official" holiday for quite a few years now, but we're unable to pinpoint with any accuracy the exact year it was created.
Some Quick & Tasty Cassoulet Facts
What's better than a steaming bowl of cassoulet? How about some tasty cassoulet facts? We've gathered a few of them below so that everyone can observe this holiday with some fun trivia that they can share with friends and family members.
The town of Castelnaudary hosts a Cassoulet Festival every year in August.
Although this dish has been around for hundreds of years, the term cassoulet was really used until the 1920s.
French peasant versions of this dish can take up to 2-days to properly prepare and make.
Observing National Cassoulet Day
Most people are going to observe this holiday by taking the time to make their own cassoulet. Although there is a strict definition of what constitutes a real cassoulet, there are plenty of variations on the basic recipe.
There are variations that use salmon instead of pork or mutton, and other recipes that change some of the minor ingredients of the dish. No matter which cassoulet version a person decides to make on this day, we encourage them to use the hashtag #NationalCassouletDay to spread the word about this holiday.