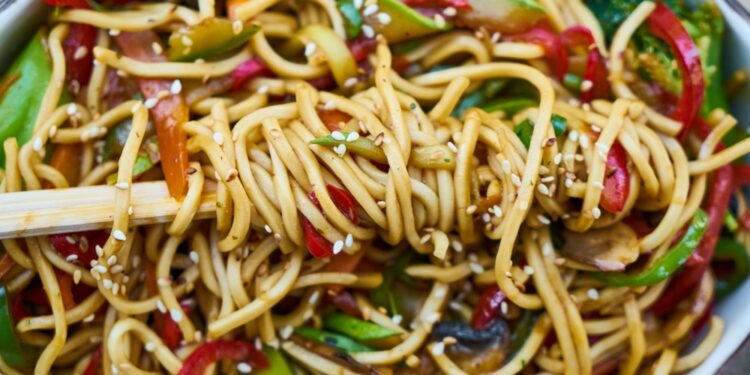 With March being National Noodle Month, it's time for everyone to break out their favorite noodle recipes. And since every culture in the world has its own variation on the noodle, it might take a whole month just to pick the one we like.
Noodles are food that goes back thousands of years with the earliest written record of it occurring during the Eastern Han Period in China some 4,000 years ago. Since their invention, they've literally traveled the world and are enjoyed in a thousand different forms. All of these noodles are worth checking out during March, it just might be a bit tough choosing the one that you like the most.
The History Of National Noodle Month
This month was first created a few years ago by the National Pasta Association. This organization helps to encourage pasta consumption and helps pasta manufacturers collaborate on marketing, production, and regulatory issues surrounding pasta.
Let's Get Noodle About Noodles
We just couldn't resist dipping into a big pot of noodle facts, so we did the research and came away with the following facts. We think the noodle facts below will be eye-opening to most people. Or, at least, that's our hope.
The first time the word "Noodle" was used was during the mid-18th century.
Every day around the world, almost 300 million portions of instant noodles are eaten.
If properly packaged, dried pasta noodles will last virtually forever, or at least for a long, long time.
The word "Noodle" comes from the German word "Nudel," which comes from "knödel." Knödel means "Dumpling."
In China, noodles are a symbol of longevity.
Following WWII, noodles became extremely important in Japan as a food source that was easy to obtain and cook.
Observing National Noodle Month
As we said earlier, there are thousands of noodles out there for people to choose from during National Noodle Month. That means that a person can have different noodles for every meal of every day of this month and not have even come close to trying all of the noodles that are available.
That's why during this month we're going to stick with the basics: Rotini, Linguine, Radiatore, Spaghetti,  Campanelle, and Shells. Of course, the pasta noodles that a person chooses during this month will depend on their personal preference, their personal taste, and what recipes they are using.
Just do us a favor. Whatever pasta noodle you choose, just be sure to post a picture of the dish it's used in on social media using the hashtag #NationalNoodleMonth. Let's give the noodle the love it deserves.