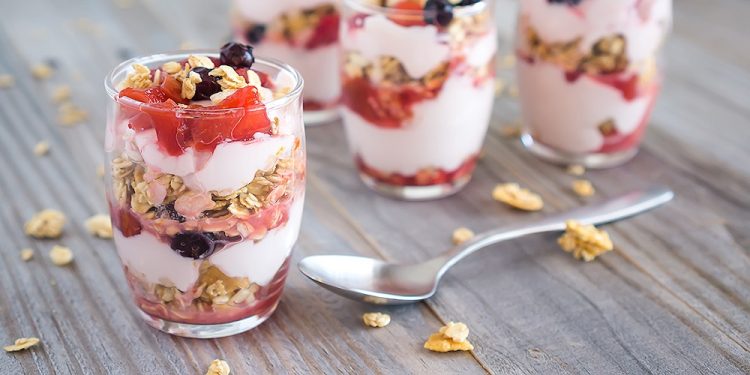 National Parfait Day is a holiday observed annually on November 25th and is used to celebrate a dish that can either a healthy dish or a decadent one. The word is used not only to describe a dish served in France that's made by boiling cream, egg, sugar, and syrup to create a puree with a custard-like consistency to it, but also a dish that's made using alternating layers of ice cream and fruit. No matter which version you enjoy, however, you're going to want to make sure that you celebrate this holiday in style with friends and family.
The History Of National Parfait Day
The French version of the parfait can be traced back to the 19th century. In fact, the oldest written recipe of this version of what is now known as parfait was published in 1892. As we stated in our introduction, this version was made using boiled cream, sugar, and syrup to make a dish that's very much like custard. This is different from the American parfait, which is usually made by either alternating layers of ice cream and fruit, or with alternating layers of yogurt, nuts, granola, and sometimes liqueurs. The American versions became popular during the 20th century. 
Fun Facts About Parfait
Since this dessert is so much fun, we thought that it might be appropriate to give everyone reading this holiday some fun facts about it. And that's what we've found and have listed it below. 
When parfaits were first invented they were served on plates. Now they're served in tall glasses.
Parfait means "perfect" in French. 
There was a coffee drink made in the 1860s that was named parfait, but it didn't resemble the dessert as we know it today.
Not all parfait dishes are sweet, however. There are savory parfait dishes. 
Observing National Parfait Day
It doesn't matter if you want to enjoy the original French version of the parfait or you have a yearning for the American version, the whole point of this holiday is to choose the version you like and enjoy it. While you're enjoying your parfait, don't forget to post a pic of it on social media using the hashtag #NationalParfaitDay.