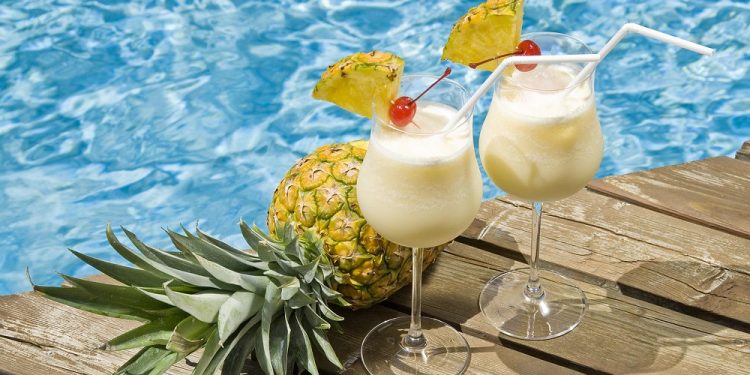 Celebrated annually July 10th, National Pina Colada Day is a holiday on which people can enjoy a tasty cocktail that's made with rum, coconut, and pineapple. The name of this cocktail means "strained pineapple" and the taste of pineapple is usually front and center in it. This drink is also one that's best served blended with ice, but can also be served simply poured over ice. No matter how it's enjoyed, however, it's a drink that's sure to have the drinker thinking of warm tropical climes and sunbathed beaches. 
The History Of The Pina Colada 
Like just about all cocktails, the pina colada has several different origin stories. Some of these stories are obviously legends, while others sound reasonable. The story that we feel sounds the most accurate is the one that says the pina colada comes from San Juan, Puerto Rico. According to that origin story, this drink was created by Ramon Marrero at the Caribe Hilton in 1954. As a response to a drink request, he whipped up a blend of rum, pineapple juice, and coconut cream. This created an instant cocktail classic that people continue to love and enjoy.
The History Of National Pina Colada Day
Although no one is sure who invented this holiday, it's believed to have been invented between 1980 and 1982. In 1979, a song by Rupert Holmes released a hit song called "Escape." This song, also known as the "Pina Colada Song", ignited the love of the pina colada. The holiday has been celebrated ever since. 
Interesting Facts About The Pina Colada
No matter whether you love it or hate it, one thing is for sure about this drink and that is that it's a classic known all over the world. It's also a drink that has an interesting history and place in pop culture. To prove our point, we've decided to list some of the interesting facts that we've found as we researched this fascinating cocktail. 
It Took A Long Time To Invent This Drink
When the Caribe Hotel asked Ramon Marrero to come up with a signature mixed drink, it took him three months to come up with the pina colada.
One Pina Colada Legend Involved A Pirate
One pina colada legend says the drink was invented by Robert Cofresi, a Puerto Rican pirate who allegedly served the drink to his crew to boost morale on a day during the 19th century. 
There Are a Ton Of Pina Colada Variations
Another thing that's quite certain about this drink is that it has a lot of different variations. Below are just a small handful of some of the pina colada recipe variations that we discovered during our research. 
Pina Colada Sangria
Triple-Layer Pina Coladas
Strawberry Pina Colada (Also called a Miami Vice)
Iguana Colada, 
Jack Colada (Made With Jack Daniels instead of rum)
Celebrating National Pina Colada Day
Our recommendation for celebrating National Pina Colada Day is to take a trip to some tropical island to sip this cocktail for the day. Of course, we understand that not everyone can travel to celebrate this day, so simply mixing up your own pina colada should be sufficient. And while you're drinking this cocktail, be sure to post on social media what you're doing using the hashtag #NationalPinaColadaDay.