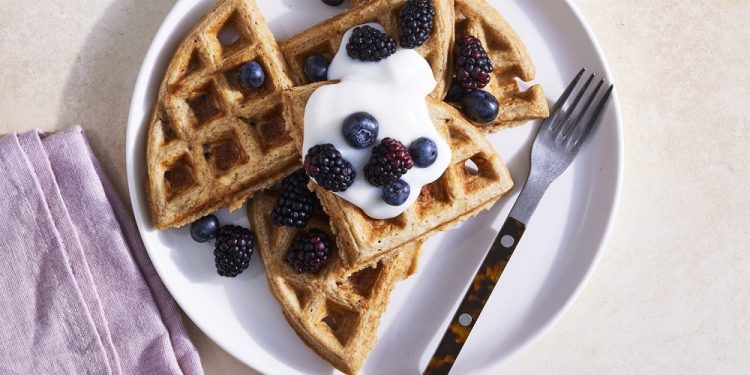 National Oatmeal Nut Waffle Day
March 11th is National Oatmeal Nut Waffles Day and it's the perfect time for people to try out these kinds of waffles if they haven't tried them out before or a perfect excuse for people who have had them to eat them again. These waffles are the perfect combination of texture and flavor.
These crisp waffles have a nutty crunch, and the taste of either honey or cinnamon — depending on how their waffles are made.  However, they also provide something a little bit better than a great culinary experience. They are usually full of fiber and may even be low in calories. That can make them great breakfast food.
The History Of National Oatmeal Nut Waffles Day
We're not entirely sure when this day was invented. We're not even sure who invented it. All that we know is that this day spontaneously appeared one day on the Internet (around 2011 or 2012) and has been circulating ever since.
We'll continue to search for the origins of this day, but until we do, everyone will just have to be content with the information that we were able to find out about it.
Let's Go Over Some Fun Waffle Facts!
We're not going to let the opportunity to list some fun waffle facts go, so we got together the ones that we felt were the coolest and listed them below. We would like to now present anyone reading about this holiday the opportunity to check out the following facts. Enjoy them while eating your waffles.
The predecessor to waffles was oublies. They were sold during religious fairs and as street food during the Middle Ages.
Oublies were made with Biblical scenes on them or with simple designs. They didn't become waffles until the honeycomb pattern was used during the 15th century.
Observing National Oatmeal Nut Waffles Day
The best way to observe National Oatmeal Nut Waffles Day is to take the time to enjoy these waffles. This can be done at a restaurant that serves them, or people can take the time to make their own. We prefer the latter because we can make the waffles the way that we like them and we encourage everyone to do the same.
The basic oatmeal nut waffle can be jazzed up a bit with the addition of almond flour, fruit, or cinnamon. Trust us, we know. And while people are experimenting trying to find the oatmeal nut waffle that tastes the best to them, they should spread the word about this day using the hashtag #OatmealNutWafflesDay.