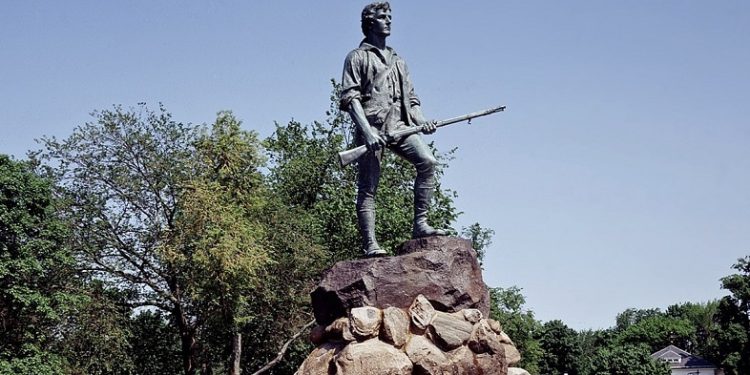 Patriot's Day is a day celebrated in some parts of the U.S and commemorates the first battles of the American Revolutionary War—specifically the battles of Lexington and Concord. It's a holiday that's been celebrated for over 127+ years, although it should be said that earlier observations of this holiday always fell on April 19th while modern observations of this holiday are observed on the third Monday in April.
It's most often recognized in Massachusetts, Maine, Wisconsin, and parts of Florida. It should not be confused with Patriot Day—a day that is observed on September 11th to mark the date of the terrorist attacks that occurred on that day. It also should be noted that in Maine this holiday is punctuated as Patriot's Day, but in other U.S states, it's punctuated as Patriots' Day.
The History Of Patriot's Day
This holiday can be traced back to 1894. This is when the Lexington Historical Society petitioned the Massachusetts State Legislature to make April 19th Lexington Day. However, the city of Concord decided that they wanted their own day, so they suggested that April 19th be designated as Concord Day. This stalemate would be eventually solved by Massachusetts Governor Frederic T. Greenhalge. He decided to create a Patriots' Day and did so in 1894.
This holiday was established on April 19th, a date that's significant because that is when the Battles of Lexington and Concord took place, as well as the Battle of Menotomy in 1775. This date would replace Fast Day in Massachusetts as an official holiday. Since 1969, this holiday has been observed on the third Monday in April in Maine and Massachusetts. This creates a 3-day holiday for most people.
In 1907, Maine decided to create a Patriot's Date—and it would replace that state's Fast Day. Wisconsin followed soon after. Patriot's Day is an official holiday in Maine and Massachusetts, but it's only a public school observance day in Wisconsin and is merely encouraged as a holiday in Florida.
On June 10, 2017, a bill was signed by Governor Dannel Mallow that established Patriot's Day as an unpaid holiday in Connecticut. North Dakota followed suit in 2019 and adopted Patriots' Day as a holiday. It would become the fourth state to adopt the holiday and the first western state to do so.
Customs, Traditions & Celebrations Of Patriot's Day
This holiday is observed in a number of different ways. In Massachusetts and Maine, people can be found reenacting the battles of Lexington and Concord on this day. Other people use this time off of work or school to plan days at the park with their friends and families. And in Boston, people from all over the world flock to the city to watch the Boston Marathon on this day.
In Massachusetts, there are usual reenactments and other activities that take place during the entire month of April. In this state alone, there are dozens of different reenactments involving thousands of people from historical societies, militias, and minutemen companies.