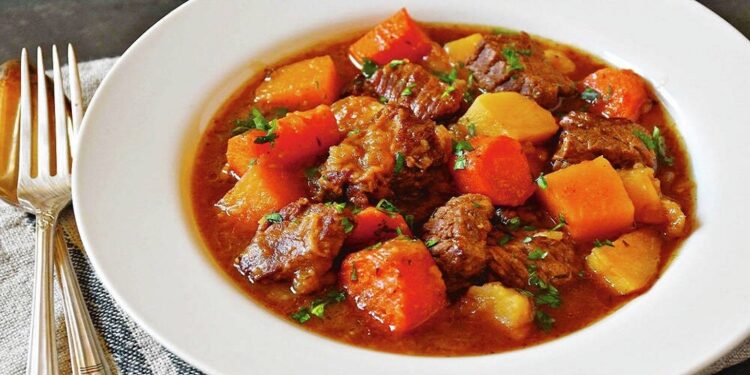 For everyone who might not be familiar with the dish scouse, let us explain it. This dish is a stew that's made from lamb or beef chunks, potatoes, onion, and carrots. It's often associated with the port city of Liverpool, and that has led some people to call the inhabitants of this port "scousers."
It's also why the holiday Global Scouse Day isn't just a celebration of this stew but is actually a celebration of the entire city. This is a day observed annually on February 28th and it's the perfect day for people to visit the city and try out scouse because it's on just about every menu for this holiday.
The History Of Global Scouse Day
This holiday began as a celebration of Graham Hughes's birthday every year by his friends. Mr. Hughes is a native citizen of Liverpool, England, and was born on February 28th, 1979. He's a British filmmaker, adventurer, and Guinness World Record holder.
During his journeys across the world, he also presented the TV program Graham's World on the National Geographic Adventure channel. This day was a way for his friends to honor him every year with a Scouse Dinner. This is very much like the Burns suppers that are often held in honor of Robert Burns. Eventually, this small gathering would grow and it ended up being observed city-wide.
Lamb Scouse Recipe
Below is a simple lamb scouse recipe. It makes a very tasty dish, so let's get started.
Ingredients:
1 pound lamb neck fillet cut into chunks.
1 tablespoon plain flour.
1 tablespoon vegetable oil.
4 carrots, cut into chunks.
1 large white onion, chopped.
12 ounces of turnip cut into chunks.
8 ounces of bitter ale.
8 ounces of chicken stock.
2 sprigs of thyme.
2 beef stock cubes.
2 bay leaves.
16 ounces of potatoes.
pickled red cabbage.
Directions:
Step One:
Toss lamb pieces in flour and brown the lamb on all sides in 1 tablespoon of oil in a large casserole dish over high heat. Set aside on a plate.
Step Two:
Turn the heat down to medium, and pour in 2 tablespoons of oil. Add onion, carrots, turnips, and a pinch of salt. Cook for 8 minutes. Return the meat to the dish and add ale, herbs, and stock.
Step Three:
Bring to a boil, reduce heat to a simmer and place the potatoes on top of the stew. Cook for 2 hours until the meat is tender and the potatoes are soft. Serve with pickled red cabbage.
Observing Global Scouse Day
Cooking up a scouse dinner is a great way for people to observe this holiday. And making one of these stews isn't as complicated as a person would think it would be. To show how easy it is, we've listed our favorite scouse recipe above. Don't forget after making a scouse to take a photo of it and place it on social media using the hashtag #GlobalScouseDay.