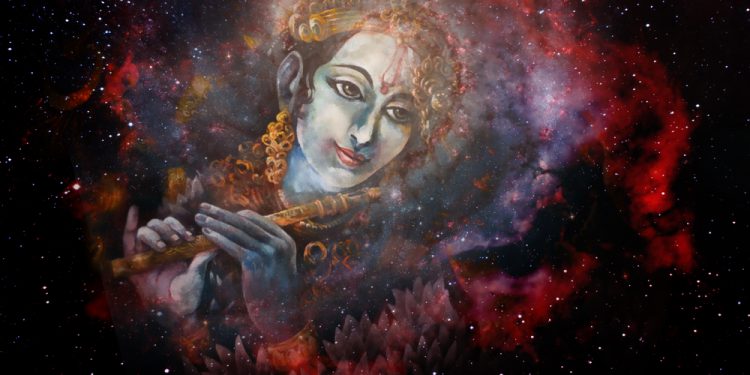 Govardhan Puja is a Hindu religious holiday that is celebrated throughout India. A propitious day that celebrates the defeat of Indra by Krishna. This holiday falls during the Hindu month of Kartik – on the first day of Shukla Paksha – and usually coincides with Gujarati New Year day. During most years, it also immediately follows Diwali Puja and may precede Amavasya by a day.
History
According to legend, the people of Vrindavan would worship Indra – the demigod of rain and thunder – with special prayers and celebrations for he brought the rains which nourished the crops. Lord Krishna disagreed with this practice however, and said that the real god to be worshiped was Govardhan Hill, also known as Annakut Hill. He told the people that the hill provided the with food and is therefore more worthy of being worshiped than Indra. The people agreed and began worshiping the hill, which angered Indra immensely and set him on a path of vengeance.
Indra decided to seek revenge and curse the people with a seemingly unending wave of rain and storms. All of these storms caused the village to become flooded – threatening both the people and the livestock of the area with drowning. However, the people were saved by Lord Krishna when he lifted the mountain with his finger and allowed the people to seek shelter beneath it. Eventually, Indra admitted defeat and recognized Krishna as the supreme god of the universe. Govardhan Puja was then created to celebrate this victory.
Customs, Traditions and Celebrations
While this holiday is celebrated extensively throughout India, it is extremely popular in the Indian states of Uttar Pradesh, Punjab, Bihar and Haryana. In these States it is celebrated with elaborate festivities. Many pious people will build replicas of Annakut mountain using cow dung – highly decorated with flowers – and then worship them. Other people will build replicas of the mountain using a variety of food stuffs including wheat, curry and rice.
In many temples around the country, the statues of deities are given a milk bath and then dressed in fine jewelry and gemstones. Elaborate dishes are also made and devoted to Lord Krishna. Some of these dishes include Halvah Bars, Fried Pakoras, Rasgullas, Laddu, Fried Boondi Sticks, Cow Cakes and Vegetable Pate.
Conclusion
This holiday not only signifies the good over evil but also signifies man's conquest of nature. It is a holiday that represents fertility and abundance and is an important day for many Hindus all over the world.