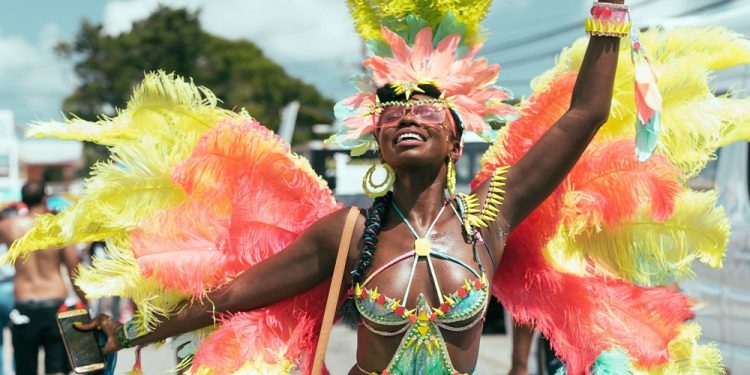 Celebrated on the first Monday in August in Barbados, Kadooment Day is a public holiday that marks the end of the 6-week Crop Over Festival. It's a day when Masquerade bands wind their way to Spring Garden Highway with party-goes who are decked out with sequin costumes that have been adorned with jewels, accents, and bright feathers. As they head down to the highway, they dance behind mobile bars and music trucks.
The History Of Kadooment Day
The Crop Over Festival and Kadooment Day is a holiday that's been observed for over 200-years. It was first created during the late18th century when there was a grand festival to celebrate the sugar crop being successfully harvested. Barbados was one of the world's biggest producers of sugar in the world during the 1780s, so bringing in the sugar harvest was a big deal. As a result, the 6-week Crop Over Festival was created and it was topped off by Kadooment Day-a day that signaled the end of the festivities and features a grand parade. And it's been celebrated ever since, except for 2020, when festivities were canceled to restrain the spread of COVID-19.
Interesting Facts About Barbados
Kadooment Day is such a part of Barbados culture, that we feel that we wouldn't be doing it the respect it deserves without talking about Barbados. So we've gathered some interesting facts about this eastern Caribbean island, and we're going to share those facts with everyone reading this below.
Barbados has a free educational system and a literacy rate that's over 97%.
Barbados has had uninterrupted parliamentary governance since 1639. That makes it the third oldest parliament in the world.
Barbados is 21-miles long and 14-miles wide.
Barbados is the first Caribbean island to have piped potable water. This is thanks to its supply of pure drinking water.
The maximum daily temperature is between 75-degrees and 90-degrees Fahrenheit year-round.
The capital of Barbados is Bridgetown.
There are approximately 285,000 people living in Barbados.
Approximately 110,000 people live in Bridgetown.
The name Barbados comes from the Bearded Fig Trees that were once found all over the island.
Some of the first slaves in Barbados were white indentured servants who were deemed enemies of the British crown.
During the mid-1800s, Barbados had over 500 windmills and almost 500 sugar plantations.
When the British first colonized the island, it was covered in dense jungle and had a large wild pig population.
Approximately a third of all land in Barbados is agricultural.
The most famous beach in Barbados is Crane Beach.
Observing Kadooment Day
Kadooment Day is celebrated with music, plenty of booze, and a grand parade that winds down to the Spring Garden Highway. People wear colorful costumes, laugh, and dance. Kadooment is a Bajaan phrase that means "large party" and that's precisely what this holiday is.