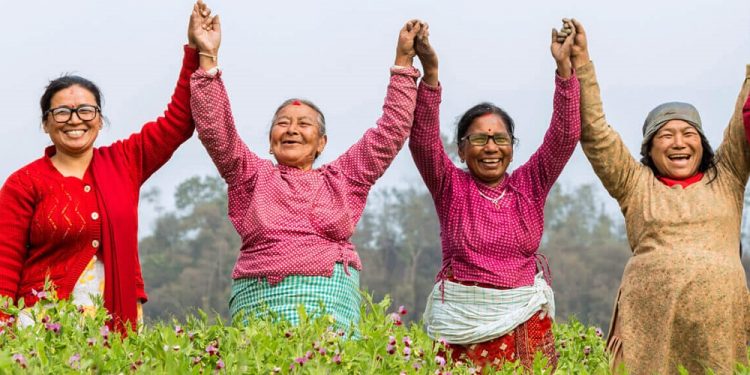 In Nepal, the 8th of March is observed as Nari Dibas — or, International Women's Day in Nepal. It's a national public holiday that acknowledges the hard work performed by the feminist movement in the country. Every year, demonstrations and celebrations are held in Nepal's capital city by the Ministry of Women and the National Women's Commission.
However, since the advancement of women's rights is far from done in Nepal, this holiday not only celebrates past achievements but also works towards equity and justice between the sexes. Nepalese women have more rights than ever before but there are still challenges to overcome.
The History Of Nari Dibas
Nepal's first female organization was founded by a Hindu religious leader who sought to abolish Sati Pratha, the Hindu practice where wives sacrificed themselves on top of the funeral pyre of their dead husbands. Her name was Yogmaye Neupane and she would originate the feminist movement in Nepal.
Although it took a few decades for the movement to really gain steam in Nepal, it finally did during the mid-1990s. This is when thousands of people protested and brought down Nepal's monarchy. Ten years later, Nepal adopted an inclusive constitution that allowed women to participate in the government and the direction of the country. Not long after, Nari Dibas was made a public holiday to celebrate the feminist movement and its accomplishments in Nepal.
Facts About Nepal
Let's go over a few facts about Nepal that we feel will educate everyone about this landlocked country located in South Asia. We think that everyone reading about Nari Dibas is probably going to find the following facts fascinating. We know we did.
Nepal is home to 8 of the world's ten highest mountains.
This country has the world's deepest lake. It's called Shey Phoksundo.
The mythological creature Yeti is known as Meh-Teh in Nepal.
Nepal is the birthplace of Buddhism.
About a quarter of Nepal's revenue comes from the tourism industry.
Killing a cow in Nepal can get a person sent to prison for up to 12 years.
Nepal has never been under foreign invasion, and as such, it doesn't have an Independence day celebration.
Observing Nari Dibas
All during Nari Dibas, there are events that celebrate and emphasize the importance of the feminist movement in Nepal. This is also a day when organized demonstrations are also held across the country to advocate for more rights for women. Word of this holiday can be spread through social media using the hashtag #NariDibas.