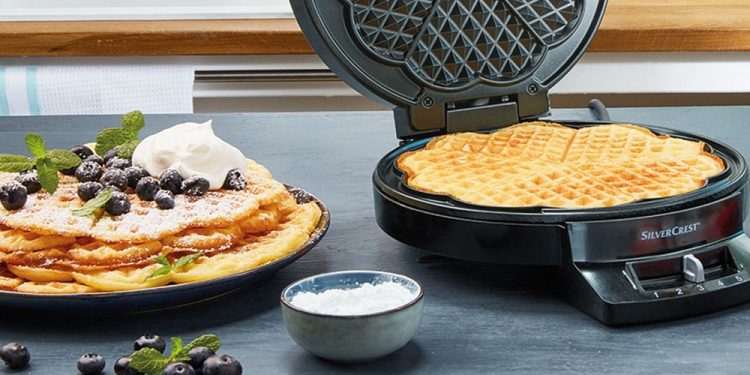 National Waffle Iron Day is a holiday that's celebrated on June 29th and is used to celebrate the tool that makes our morning waffles. Yes, while the waffle is officially celebrated on August 24th with the observation of National Waffle Day, this holiday concerns itself mainly with the hardware used to make that waffle. This might make it somewhat of a weird holiday to celebrate, but we don't mind because it's just another excuse for us to make our own waffles. 
The History Of The Waffle Iron
We couldn't uncover the history of National Waffle Iron Day, so we investigated the history of the waffle iron instead. What we discovered was that this invention actually goes all the way back to the 14th century. In and around the Netherlands and Flanders, people used hinged iron plates with long wooden handles to make waffles. Many of these waffle irons were made with elaborate designs so they could put religious symbols, coat-or-arms, or other designs on the waffles when they were cooked over the hearth fire. 
The first stove-top model would be made in 1869 by an American named Cornelius Swartwout. His main contribution to the design was to make it small enough to fit on a stove and to give it a hinge that swiveled. He also added a handle to it. It wouldn't be until 1911, however, that a prototype electric waffle iron would be created by General Electric. 
Some Hot Facts About Waffle Irons
Want to find out some interesting facts about waffle irons? If you've answered yes, then you've come to the right place. We've found some very interesting facts about these devices—facts that we intend to share with all of you right now. 
People have been making waffles for over 700+ years.
The first pair of Nike's were inspired by the tread design on a waffle iron.
The word waffle comes from the Dutch word for a wafer. 
The Waffle House sells almost 150 waffles every single minute.
The world's biggest waffle was made in 2013. It weighed 110 pounds and was 8-feet long.
Eggo Foods started off as a company that sold mayonnaise. 
The first waffle iron brought to America was allegedly brought by Thomas Jefferson.
When Eggo Foods released their frozen waffles in 1955, they originally called them Froffles.
A shortage of ice cream cups at the St.Louis World Fair led to waffles being used to hold cones. This is how the waffle cone was invented. 
Observing National Waffle Iron Day
If you want to observe National Waffle Iron Day, then all you need to do is to dust off your waffle iron and make some waffles for yourself or friends and family. There are a ton of different waffle recipes out there, so you can make some as simple as chocolate chip waffles, to something as complex as a homemade Belgian waffle. After you have cooked the perfect waffle in your waffle iron, don't forget to post a picture of it to social media using the hashtag #NationalWaffleIronDay.