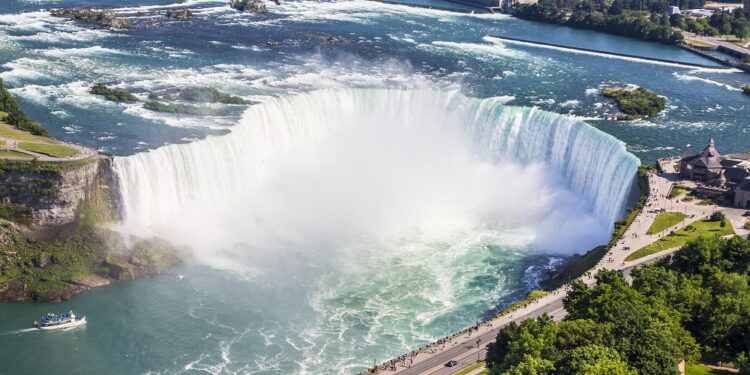 Niagara Falls Runs Dry Day
Niagara Falls Runs Dry Day is a holiday that's observed annually on March 29th. Okay, calling this day a holiday might be a bit of a stretch. It's more of a commemoration of the time that Niagara Falls ran dry in 1848 due to ice blockages. The blockages would last for almost 2 days before they began to run again.
Fortunately, this event hasn't happened since and people can enjoy these falls whenever they want. Even so, the historical event that created this commemoration can still be remembered as something remarkable and something unlikely to repeat during our lifetimes.
The History Of Niagara Falls Runs Dry Day
According to scientists, Niagara Falls has been around for approximately 12,000 years ago, also known as the end of the Ice Age. It was formed when water flowed from melting ice and wore away rock layers to create the structure.
On March 29th, 1848, ice began to form on Lake Erie due to the bitterly cold weather conditions. This ice would end up breaking away and then being transported to the mouth of the falls. This suspended the flow of water for approximately 30 hours.
The locals were the first to notice this strange event, then people from all over showed up in the area. Eventually, the obstructions cleared and the falls returned to the way they have always been for thousands of years.
Some Fun Facts About Niagara Falls
How many facts do you know about Niagara Falls? If you're like us, then you probably have realized that you don't know as much as you should about it. Don't worry, we decided that we could rectify this situation by taking the time to list some of the facts that we've learned about it. We think the following Niagara Falls facts are educational and quite frankly, a lot of fun as well.
Niagara Falls wears its way back at a rate of approximately 1 foot per year.
These falls flow at approximately 35 miles per hour (56.3 kilometers/hour).
Skylon Tower rises 775 feet above Niagara Falls.
The first person to travel over the Falls in a barrel was Annie Taylor in 1901. she was a school teacher from Bay City Michigan.
Observing Niagara Falls Runs Dry Day
We encourage everyone to take the time to learn more about this holiday when it shows up on their calendar. It's also a good day to learn some general information about Niagara Falls, which we tried to furnish in the section above. And people can spread the news about this day using the hashtag #NiagaraFallsRunsDryDay online.