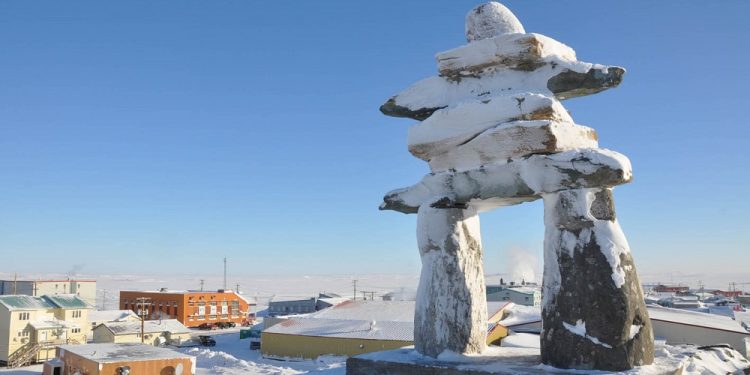 Nunavut Day is a public holiday that's observed in the newest, northernmost territory of Canada known as Nunavut. This territory was created with the passage of the Nunavut Act in 1993 and the Nunavut Land Claims Agreement Act in 1999. Even though it's a declared public holiday in the territory, some businesses and organizations may remain open on this day. Employees of Canada's federal government also work on this day because it's only deemed a holiday for territorial public servants and not for federal public servants. It's a day on which traditional food is served in many communities, games, and traditional dancing.
The History Of Nunavut Day
To dig into how this holiday came into existence, it's important to dig into Nanavut's history. In 1870, Hudson's Bay Company and Rupert's Land were united with Canada and were deemed the Northwest Territories. From 1876 on through 1905, the Northwest Territories were further divided into provisional districts. These districts included Alberta, Athabasca, Keewatin, Franklin, Assiniboia, Yukon, Ungava, Mackenzie, and Saskatchewan. In 1880, the North American Arctic Islands were claimed by Great Britain and then added to the Territories. In 1905, Alberta and Saskatchewan were created, and the boundaries of Franklin, Keewatin, and Mackenzie had their borders fully defined by 1920.
On June 10, 1993, the territory of Nunavut was created under Bill C-132 and came into effect on April 1, 1999. The map of Canada was redefined, and the Northwest Territories were portioned into two separate territories. This is when Nanavut was created as the homeland of Canada's Inuit people. Nunavut is approximately 20% of Canada's total landmass and is composed of the eastern and central Arctic regions of Canada.
Fast Facts About Nunavut
Some people have not even heard about Nunavut, so we decided to do a little bit of research about it, so we could share some fast facts with everyone reading about Nunavut Day. So let's spring right into the action and find out more about this Canadian territory.
Nunavut is Canada's largest territory. It has a total area of over 2 million square kilometers.
Nunavut is approximately 20% of Canada's total landmass.
The most common languages spoken in Nunavut are English, French,  Inuktitut, and Inuinnaqtun.
About three-fourths of the world's narwhal population migrate to the island estuaries of Nunavut every year.
The largest communities in Nunavut include Baker Lake, Iqaluit, Cape Dorset, Igloolik, and Cambridge Bay.
Barbeau Peak on Ellesmere Island is the highest point in Nunavut. It's approximately 8,583 feet above sea level.
Nunavut has 10 territorial parks and 5 national parks.
The fifth-largest island in Nunavut is Baffin Island.
The entire territory of Nunavut has less than 33 kilometers of paved roads.
Nunavut was the last Canadian province to get a Tim Hortons.
Observing Nunavut Day
All throughout Nunavut, various cultural events and activities are held all over. These can include everything from dancing and music to regional barbecues using musk ox meat. People who want to join in on the festivities can use the hashtag #NunavutDay to spread the word about this holiday.