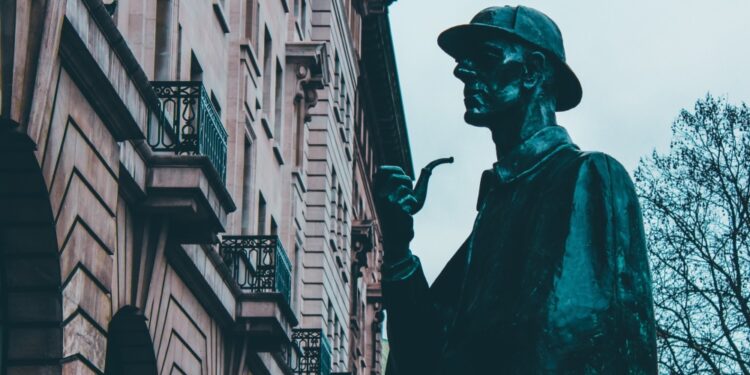 Observed annually on May 22nd, Sherlock Holmes Day is a holiday that celebrates the legendary detective that's not only been entertaining readers for over 136+ years but has been a defining figure in the detective genre. This figure was created by Sir Arthur Conan Doyle — an author who was born on May 22, 1859.
Although his stories didn't create the detective genre, they were a defining influence on the genre and built upon what authors such as Anna Katharine Green, Emile Gaboriau, Edgar Allan Poe, and Dorothy L. Sayers had previously done. With that being said, Sherlock is a character that has remained a part of popular culture since the 19th century and that's no easy feat.
The History Of Sherlock Holmes Day
Arthur Conan Doyle was born in Edinburgh on May 22, 1859. He was officially trained as a doctor, after having obtained his degree from Edinburgh University in 1881, and would end up working various jobs as a medical professor including being a surgeon on a whaling boat and a medical officer on a steamer that was traveling between Liverpool and West Africa.
He would eventually settle in Portsmouth in England and began to divide his time between practicing medicine and his writing. This is when he began to write his Sherlock Holmes stories. Sherlock Holmes would first appear in an 1887 novel called "A Study in Scarlet," along with his faithful companion Dr. John H. Watson.
It became a success story and this would encourage Holmes to write more stories. In 1893, Doyle ended up killing Sherlock Holmes but that was met with a serious outcry by the public.
He would end up resurrecting Sherlock Holmes, but he also continued to write other things — including works of non-fiction. On July 7th, 1930, Sir Arthur Conan Doyle would end up succumbing to a heart attack, but his character Sherlock Holmes would continue to live through the ages.
Observing Sherlock Holmes Day
How do you celebrate Sherlock Holmes Day? It's elementary, my dear Watson! Of course, that phrase never appeared in Arthur Conan Doyle's original stories, but it is associated with later stories, so I guess it still applies here.
But we digress, this holiday can be observed by learning more about Doyle and his work, by reading Sherlock Holmes stories or watching movies featuring this iconic character, or by using the hashtag #SherlockHolmesDay on social media. So, we encourage everyone to go ahead and put on their deerstalker hat, and grab their Calabash pipe, and have some fun on this day.