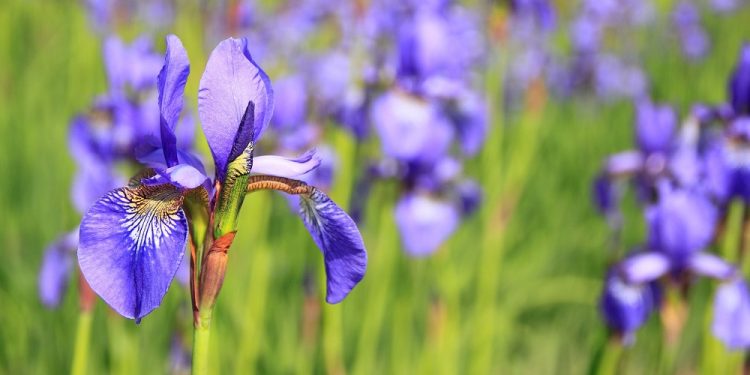 Irises are a flowering plant genus that includes over 310 different accepted flower species. There are bearded irises, yellow irises, and Northern blue flag irises. There are also Siberian irises and netted irises and about 305 other different incarnations of this flower.
All throughout history, their aromatic rhizomes have been used to make fragrances, and the purplish juice squeezed from their flowers has been used to make pigments for manuscript illumination and for other purposes.
They have also been used as symbols through the years. They've been a symbol of wisdom, faith and hope, and positive change. It's no wonder these flowers have earned their own day. A holiday is known as Iris Day that's celebrated every May 8th.
The History Of Iris Day
Iris Day is a holiday that's been observed since the Middle Ages in one form or another in some countries. In Brussels, Belgium, the iris is especially important as it's an important symbol of the region and even appears on the Flag of the Brussels-Capital Region.
Every year, there is an Iris Festival in Brussels that's observed on the 8th of May. That's why Iris Day is celebrated on this day. Of course, this holiday has long since jumped Belgium's border and is now observed in cities and villages all around the world.
Some Quick Facts About The Iris
You didn't think we'd end a holiday called Iris Day without taking a few moments to actually list some facts about irises, did you? Of course, we wouldn't. That's why we've researched, collated, and listed the following factoids for all of our reader's enjoyment.
Irises are native to Asia, Europe, and North America.
Purple is the most common iris color, but they also come in other colors including pink, blue, yellow, and white.
The iris is a symbol of power, wisdom, and sometimes even royalty.
People have been cultivating the iris for over 4,000 years.
Iris cultivation goes all the way back to ancient Egypt.
Irises are perennial plants and grow from creeping rhizomes.
Observing Iris Day
The Iris Festival in Brussels is a must-see event for anyone who wants to celebrate this holiday. There's an Iris Food corner that features more than three dozen food trucks serving cuisines from around the world, there's street theater, acrobatics, dancers, and other creative performances as well.
There are similar celebrations in cities around the world as well. People can also spread the word about this holiday using the hashtag #IrisDay on social media.