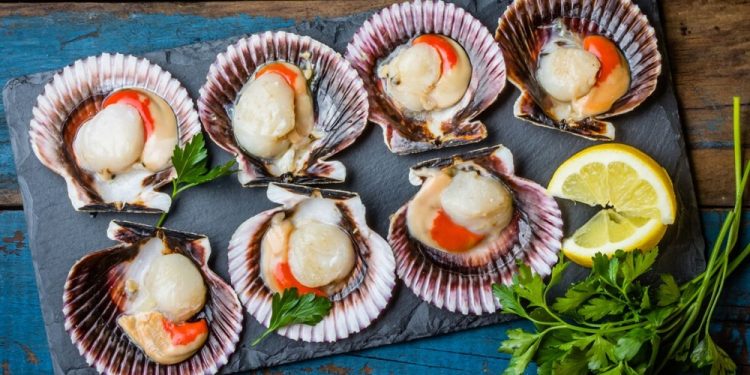 National Coquilles Saint Jacques Day
Most people can be excused for thinking that National Coquilles Saint Jacques Day is a religious holiday. After all, the word saint is right in the middle of it. However, this holiday only has a passing relationship to religion.
It's actually a day that celebrates the classic French dish known as Coquilles Saint Jacques — or, the Great Scallop in English. As the name suggests, this dish features the St. James Scallop, butter, mushrooms, cheese, and cream.
This day is observed on May 16th and gives everyone the opportunity to make a delectable and sumptuous dish for friends, family members, and other loved ones.
The History Of  National Coquilles Saint Jacques Day
We're unsure of when, where or why this holiday was invented. However, what we do know is that this holiday was invented because the scallop shell is a symbol of Saint James, one of the 12 Apostles of Jesus.
According to popular legend, scallop shells were used as food and water bowls for pilgrims making their way to Santiago de Compostela, which is why many stopover points featured a carved scallop shell.
There is also a legend about how this scallop became known as the St. James Scallop. According to this legend, the saint saved a knight from drowning and when the knight rose from the water, he was covered with shells. That is when the phrase "shells of Saint James" was supposedly uttered.
Observing National Coquilles Saint Jacques Day
This holiday is a joy for most people to observe if they have access to all of the ingredients needed. All they have to do is make Coquilles Saint Jacques or a derivation of this recipe.
Traditionally, this recipe is made with scallops, cream, mushrooms, and Gruyère cheese, but some people use mozzarella cheese instead. Personally, we like to make this dish with provolone cheese, but maybe that's just us.
Regardless of what a person decides to make, however, they should make sure to let us know how it turned out by using the hashtag CoquillesSaintJacquesDay on social media.