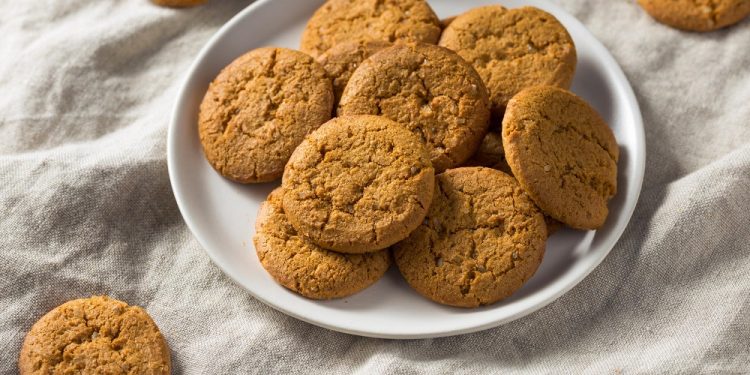 Gingersnaps are thin and brittle cookies that are flavored with just a hint of ginger. They are cookies that were invented by Medieval monks in Franconia, Germany during the 13th century. Traditionally, these cookies are lower in calories than other types of cookies, which makes them a good dessert alternative for people looking to watch their weight.
Since gingersnaps are cookies that have been loved for literally hundreds of years, it should be no surprise that someone gave these cookies their own holiday. This holiday is known as National Gingersnap Day and is observed every July 1st. Let's all raise our glasses of milk to these cookies on this day.
The History Of Gingersnaps
We've been unable to uncover who invented this holiday or when it was first celebrated, but we were able to find out when gingersnaps were first invented. These cookies owe their existence to Lebkuchen, honey-sweetened bar cookies that are similar to gingerbread. These cookies were made with aniseed, coriander, cloves, allspice, honey, cardamom, and of course, ginger.
This made them a popular cookie to be served during Christmas traditions. These cookies were probably invented by monks in Franconia, Germany. Although Lebkuchen are still made to this day, there was an offshoot of these cookies that dropped some of the other spices and focused on the ginger. These cookies would become modern gingersnaps.
Facts About Gingersnaps
Below are some fast facts about gingersnaps we'd like to share with everyone right here.
The first published recipe for gingersnaps was published by Mrs. H.L Webster in 1805.
Dried ginger, the main ingredient of gingersnaps, can act as an antihistamine and a decongestant.
Dried ginger also can reduce inflammation and stimulate blood circulation.
Observing National Gingersnap Day
National Gingersnap Day is a holiday that should be enjoyed with fresh-baked gingersnap cookies. Although gingersnap cookies have been made commercially since the 19th century, we strongly advise everyone celebrating this holiday to make their own.
It's definitely worth the time to make your own, trust us. After making these cookies, you can then serve them with milk, eggnog, or even ice cream. Oh, and don't forget to use the hashtag #NationalGingersnapDay to spread the word about this cookie.