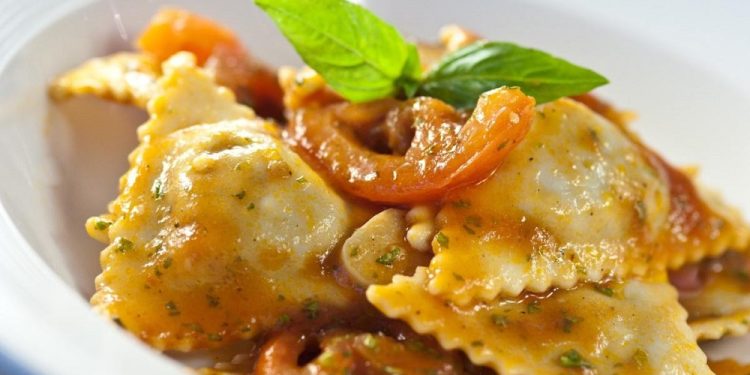 National Ravioli Day is a holiday that's celebrated annually on March 20th. It's a day that was created to celebrate and encourage people to enjoy one of the most fun pasta forms available, the ravioli. Ravioli is a pasta that can be served in a number of interesting ways and can be used as a main course or as a side dish. It's a pasta that can be baked or deep-fried and is readily available in the freezer sections of most grocery stores. That makes it a food that everyone can celebrate on this holiday. 
The History Of Ravioli
Before we can find out when ravioli was first invented, we first have to define what makes it a unique pasta. Ravioli is a pasta that basically features a filling that's surrounded by a thin pasta dough. It doesn't matter how it's cooked, as ravioli can be baked, fried, deep-fried, or boiled, but it does matter that it's a dough covered filling of some sort. 
Okay, now that we've defined ravioli, let's talk about the first appearance of it in history books. It would appear that the first mention of ravioli can be traced back to the 14th century in the personal letters of an Italian merchant known as Francesco Datini. It also appeared in the Libro per Cuoco, a Medieval cookbook that was created in the mid-14th century.  
Of course, some culinary historians believe that it actually originated before the 14th century as it was already a food that was consumed in other parts of Europe and the world at this time. It was eaten in England and in several other countries around the world. At this time, no one knows who invented National Ravioli Day. 
Facts About Ravioli
Now that we've explored the history of the humble ravioli, it's time to offer up some facts about ravioli that people reading this might not know. After all, this stuffed pasta is an interesting food with an interesting history and is also a food that's enjoyed by many different cultures around the world. Let's talk about some of the more interesting facts about this pasta.
Toasted Ravioli can be traced to an Italian neighborhood in St.Louis known as "The Hill."
The first canned ravioli were distributed to the Italian Army during World War I. 
Canned ravioli in the U.S was popularized in the 1930s by Chef Boyardee.
In India, there's a dish like a ravioli called Gujiya. 
Observing National Ravioli Day
Observing National Ravioli Day is as easy as making your favorite ravioli for your friends and family. It can be a traditional boiled ravioli with a pour-over sauce, a toasted ravioli served with a shake of parmesan and a dipping sauce, or it can be Ravioli Nudi—a dish that's made with only the filling and not the pasta shell. No matter how you enjoy it, however, be sure to spread the word about this holiday using the hashtag #NationalRavioliDay and let everyone else know how you're celebrating.