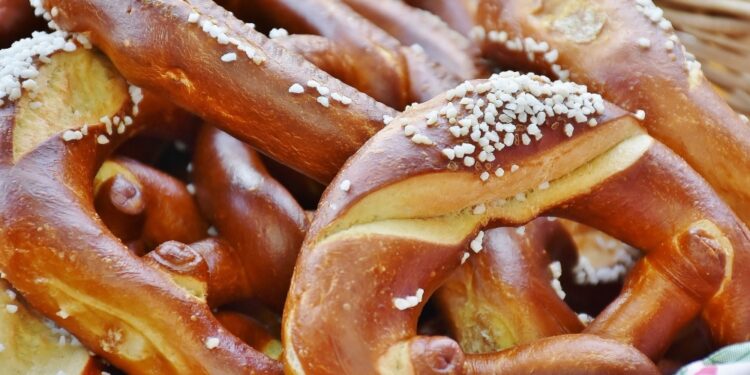 National Soft Pretzel Month
Do you know what sounds good right now? A nice warm pretzel, straight from the oven, that's been coated in a nice layer of salt. Doesn't that sound good? Pair that with mustard or some cheese and you have the perfect snack for National Soft Pretzel Month.
Observed in April, this observance month encourages everyone to eat a pretzel or to make something out of pretzel dough. We've seen people enjoy pretzel hamburger buns, pretzel chips, and even pretzel logs, so all you have to do is to choose a pretzel form that you like and dig in. Just be sure to save us some.
The History Of Pretzels
We couldn't uncover the history of National Soft Pretzel Month, so we decided to do some research, switch gears and uncover the history of the pretzel. And what we learned is really quite fascinating.
It appears that the pretzel can trace its lineage back to medieval Europe. Some people say that they were born in Italy, where they were given the Latin name "Bracellae," which means "Little Arms." They were allegedly given to children when they were finished with religious education.
From Italy, the pretzel would travel to Germany where it could become known as "bretzel." This would later morph into the word "pretzel." It's in Germany where this snack really took off and became a part of the food culture.
During the 17th century, the pretzel would come to symbolize undying love. This is because of its interlocking knots. This is why it became customary for couples in Switzerland to use pretzels during their wedding ceremonies.
Exploring Some Fun Pretzel Facts
We love pretzels, you love pretzels, we all love pretzels. And this is true even if we don't know much about them. So let's take the time to learn a little bit more about this treat by exploring some pretzel trivia below.
Approximately 80% of all pretzels in the U.S are made in Pennsylvania.
The first automated pretzel machines were created in 1935.
In St. Louis, Missouri, Gus' Pretzels sells a Bratwurst or Salsiccia wrapped in a pretzel.
Beer and pretzels go to together quite well, but the combination packs quite a lot of carbohydrates.
Observing National Soft Pretzel Month
National Soft Pretzel Month can be observed by embracing the history of this tasty snack and by enjoying some of them over the course of the month. It's a good month to learn how pretzels can be worked into recipes as well.
However, if you decide to celebrate this month just be sure to use the hashtag #NationalSoftPretzelMonth on social media to alert other people to the potential of this month.