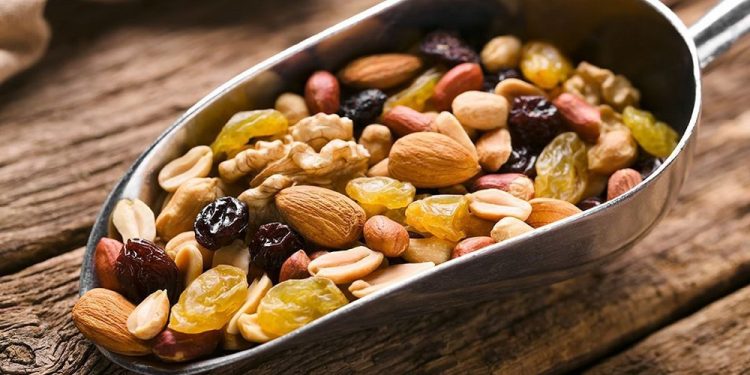 Celebrated on August 31st every year, National Trail Mix Day is a holiday in honor of a type of snack food that's eaten as a quick source of energy by hikers. It's also a food that millions of people all over the world snack on. Trail mix is not only a good source of carbohydrates but is also a good source of protein and healthy fats. That's probably why it's been around for thousands of years and has earned enough respect to get its own holiday. 
What Is Trail Mix?
Trail mix is a mixture of nuts, legumes, dried fruits, chocolate, breakfast cereals, rye chips, pretzels, seeds, Carob chips, shredded coconut, and crystallized ginger—or some variation of these ingredients. For example, a typical trail mix might contain almonds, peanuts, cranberries, apricots, chocolate chips, granola, pretzels, sunflower seeds, shredded coconut, and crystallized ginger. Of course, there is an almost endless number of trail mix variations, so consumers have a lot of choices when it comes to this snack food.
Facts About Trail Mix
If you want to know a few things about trail mix, then read the following bullet points that we've gathered together for your entertainment. During the course of our research, we found out quite a few things about trail mix that we'd like to share. 
Native Americans were eating a type of trail mix for thousands of years before Europeans arrived in North America.
Hikers have been using a combination of raisins, chocolate, and nuts since the early 20th century.
In Australia and New Zealand, trail mix is called Scroggin.
Another word for trail mix is gorp. Gorp means "to eat miserly."
Observing National Trail Mix Day
If you want to observe National Trail Mix Day, all you have to do is to make or buy your favorite variety of trail mix. While you're enjoying this snack food, make sure to post a picture of it on social media using the hashtag #NationalTrailMixDay. Let everyone know that you're enjoying trail mix on this holiday.