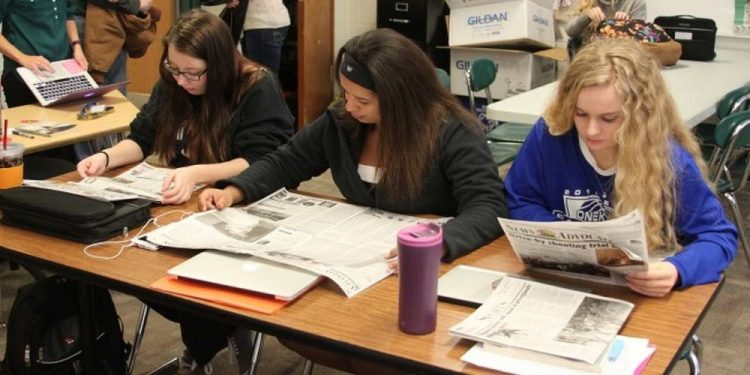 Newspapers In Education Week
National Newspapers in Education Week falls during the first week in March and is designed to encourage educators to use newspapers in their classrooms. Although newspapers are seen by some as a dying form of media, the truth of the matter is that they still have a lot to offer all of us.
They are not only a snapshot of what is going on in society, but they also still deliver important news that isn't covered by other sources — particularly on a local level. It's for this reason that this week has remained relevant, even as newspaper consumption in the U.S is declining.
The History Of National Newspapers In Education Week
Schools and newspapers have been working together for hundreds of years. Some of the earliest examples of this date back to 1795 when the Portland Eastern Herald published an editorial that promoted the cooperation between classrooms and local newspapers. Even so, National Newspapers in Education Week didn't officially start until 1982.
Some Newsworthy Facts About Newspapers
Let's get into some facts about newspapers before they all disappear. We uncovered the following facts while we researched this week. We hope the following points are as informative as they are entertaining.
Millennials are 39% more likely to read newspapers on mobile devices than other age groups.
During an average week, 63% of U.S adults read newspaper content in either print or digital form.
Approximately 8 out of 10 Americans read newspapers digital media each month.
Approximately 50% of adult Twitter users read a newspaper during an average week.
Observing National Newspapers In Education Week
Although newspapers are becoming increasingly rare nowadays, there are still quite a few of them around, either in their printed iteration or in their digital ones. Therefore, it's a good idea for teachers to introduce their classrooms to them on this day.
Teachers can also teach their students about the principles of journalism, encourage them to write an editorial or a comic strip, or teach them how to write a news article. And while people are celebrating this week, they should use the hashtag #NationalNewspapersInEducationWeek on their social media accounts.