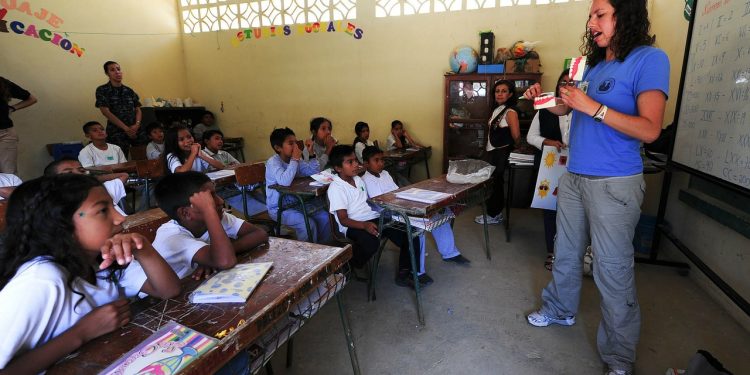 World Teacher's Day is an international observance day that is celebrated on October 5th on an annual basis. It was created by the United Nations Educational, Scientific and Cultural Organization (UNESCO) to not only show appreciation for teachers all over the world but also to be used as a day to assess and help teachers improve.
It is also a day that is used to look at the unique issues that directly affect teachers. While many countries have their own specific national teachers' day, UNESCO feels that it's necessary to observe the national issues that affect teachers from an international view.
After all, the world is producing global citizens, therefore, it's necessary to have global teachers who can address and exchange ideas from one country to the next.
History of World Teacher's Day
The history of this international observance day can be traced all the way back to October 5th, 1966. This is when the Special Intergovernmental Conference on the Status of Teachers – which had been convened in Paris, France to analyze issues affecting teachers and the teaching profession – finally reached a consensus and closed their investigation.
As a result, they published the "Recommendation Concerning the Status of Teachers", a document that was signed by both members of the International Labour Organization (ILO) and UNESCO.
This recommendation establishes the rights and obligations of teachers; sets international standards for initial training as well as for the continuing education of teachers; and sets international guidelines for the recruitment and employment of teachers.
All of the recommendations help promote a quality environment for education. On October 5, 1994, the first World Teacher's Day was organized. It has been held every year since that date. Three years later, on October 12, 1997, UNESCO opened up the 29th General Conference session.
During this session, the "Recommendation concerning the Status of Higher-Education Teaching Personnel" was adopted. A document that revised and improved educational standards for international teachers, as well as the standards for the educational organizations that employ them.
Celebrating this Day
On this day, all kinds of different events are held all over the world. This includes celebrations to honor specific teachers, or just teachers in general, and celebrations the recognize the contributions that teachers have made in society. It is also a day that may be used for recruitment drives, extra teacher training events, and for looking into specific teacher policies.
Conclusion
This international observance day is the perfect day to celebrate your favorite teacher, to show the teacher in your life how much he/she means to you, or simply to acknowledge teaching in general. After all, the greatest barometer of a healthy society is the health of the teaching profession in that society.