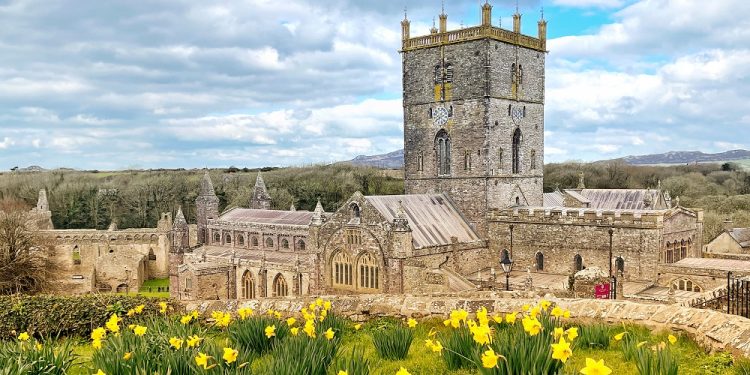 St. David is the patron saint of Wales, who was born approximately 500 A.D in Henvynyw, Cardiganshire. He was a sixth-century Welsh bishop who was known for being a teacher and for spreading asceticism among fellow Celtic Christians. He is also known for helping to found the 12 monasteries.
His feast day is St. David's Day and it's observed on March 1st, the day on which he died in 589 in Mynyw, Dyfed. This feast day is traditionally celebrated by wearing daffodils and leeks, eating traditional welsh foods such as Lamb cawl, Welsh rarebit, and Conwy mussels, and by people wearing traditional Welsh clothing on this day. This is also a day that's observed with religious ceremonies, concerts, food festivals, and parades.
The History Of St. David's Day
It is believed that Saint David was born in Henvynyw in Cardiganshire and rose to prominence as a teacher and religious leader. He is also known for founding religious settlements and shrines in Pembrokeshire, Wales, and around Brittany. St. David is also known for spreading asceticism among Celtic Christians and for founding 12 different monasteries. One of the most famous religious settlements that he founded was the monastery at Menevia in Southwestern Wales. This monastery was known for its extreme asceticism, as set forth by decree from David himself. David and his monks neither drank beer nor ate meat and avoided personal possessions.
It is believed that he died on the first of March in the year 589 at the ripe age of 100 years, although some sources say that he was only 89 years old. In 1120, Pope Callixtus II venerated him to Saint status, thanks in part to the miracle performed at Synod of Brefi. According to legend, while St. David was preaching to a crowd at the Synod of Brefi, the land raised and formed a small hill. Upon this hill was built the village of Llanddewi Brefi.
Facts About St. David & St. David's Day
We wanted to make sure everyone was aware of the richness of St. David's life, as well as why some symbols are important for St. David's Day, so we thought the best way to do that was to add a trivia section to this holiday. The following points are what we learned about this saint and this holiday. Let's examine some of these factoids.
St. David's Last Words Are Famous
As recorded by his followers, St. David's last words were "Be joyful, keep the faith, and do the little things that you have heard and seen me do." The Welsh phrase "Gwnewch y pethau bychain" or "Do the little things" is a well-known phrase all over Wales.
Leeks Are An Important Part Of St. David's Day
Two symbols that are closely associated with St. David's Day are the daffodil and the leek. We're unsure of the significance of the daffodil, but we do know that leeks are a symbol of this holiday because St. David suggested that Welsh soldiers against the invading Saxon army wear leeks on their helmets to clearly differentiate them from the Saxons. This was necessary because both armies wore similar uniforms. However, the tradition continues to this day and the leek is even featured in the uniforms of modern Welsh soldiers.
Observations, Customs & Celebrations For St. David's Day
St. David's Day is observed in a variety of different ways. One of the most common ways this holiday is celebrated is with large parades around Wales. One of the biggest of these parades happens in the city and county of Cardiff. This parade is a full-on celebration of Welsh culture and heritage and features people in traditional Welsh dress and displays of Welsh symbolism. People can witness banners that are emblazoned with various symbols—including the flag of St. David, a yellow cross on a black field. There are also the red-and-yellow lions of the Welsh princes that are put on display.
The parade travels from Cardiff city center, down Hayes, and into a mass gathering where people sing a rendition of the Welsh national anthem: Wlad Fy Nhadau. Other towns across Wales also host annual celebrations and processions. These include the Welsh towns of Aberystwyth, Carmarthen, Colwyn Bay, and Lampeter. In Croeso, there is usually a festival that lasts two days and features music, entertainment, and food. Food stalls serve everything from Lamb cawl to a BBQ rack of salt-marsh mutton. There are also cooking demonstrations, rugby, Welsh bands, and a daffodil dash.
Many tourists use St. David's Day as an excuse to visit one of the many castles that dot the Welsh landscape. There are more than 600 castles in Wales that include Conwy, Harlech, Beaumaris, and Caernarfon. The organization CADW sometimes offers free entry to many of these historic fortresses for this holiday.