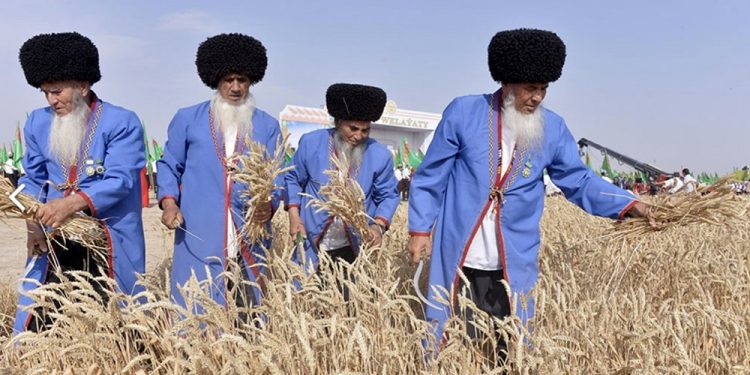 In Turkmenistan, Galla Bayramy is a public holiday that's observed annually on the third Sunday in July. The name of this holiday translates to Celebration of the Wheat Harvest, and as its name suggests, it's a day that honors the agricultural workers of the country. Although cotton is Turkmenistan's number one cash crop, wheat cultivation is also extremely important for this country.
It's also a symbol of the nation's prosperity. During this holiday, there are numerous expos, scientific forums, agricultural conferences, and art exhibitions held on this day. Of course, that's only a sampling of some of the events that are observed. We'll talk about the rest below.
The History Of Galla Bayramy In Turkmenistan
Although we're unable to uncover the origins of Galla Bayramy, we do know that for hundreds of years, bread has been revered in Turkmenistan. It's seen as a sign of well-being and prosperity and literally kept the country fed.
The Celebration of the Wheat Harvest embodies those beliefs and it reminds people of the value of bread at their table. It also encourages people to honor the agricultural workers that provide the wheat for those loaves of bread and contribute not only to the health of individual citizens but also to the health of the nation.
Facts About Wheat
Since wheat is not only at the heart of Galla Bayramy but also the heart of Turkmenistan, we thought that we'd take a few moments to give some interesting facts about wheat below. We think most people will find the following facts to be quite entertaining, and hopefully, quite educational.
Wheat is a member of the Poaceae family. This is a family of grasses that also includes other cereal grasses, bamboo, and pasture grasses.
The crop's kernel is known as a caryopsis.
The Top 5 wheat producers in the world are China, India, Russia, the United States, and France.
Turkmenistan was traditionally a wheat importer, but in 2010, they started exporting wheat to the rest of the world.
It's expected that Turkmenistan will be able to maintain wheat export levels of 200,000 to 400,000 tons annually over the next 20 years, despite an increase in population.
Observing Galla Bayramy In Turkmenistan
On this day, there are a variety of different events held all across the country. There's horse racing, sporting events, parades, festivals, fairs, and a lot of other things for the local population to do.
Of course, there's also plenty of food that includes Shurpa, Shashlyk, Chroek, Kovurma, and Gutap. The hashtag #GallaBayramy can be used on social media to spread the word about this holiday.