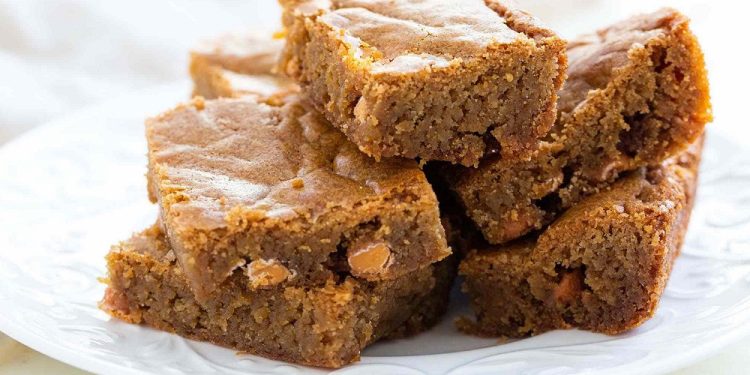 National Butterscotch Brownie Day
Spring is the time of the year when people begin to look forward to the warm, lazy month of summer. It's also the time when people begin to bake more cookies and brownies-thanks to the increase in weddings and school graduations. So, it shouldn't surprise anyone that May 9th is a holiday that's celebrated as National Butterscotch Brownie Day.
This is a day on which everyone can enjoy baking these delicious brownies, also known as "blondies," and sharing them with friends and family. Of course, if you'd rather buy your brownies than bake them, we're sure there are plenty of bakeries where you can find them.
The History Of Butterscotch Brownies
During the 19th century, butterscotch brownies are made with flour, brown sugar, eggs, butter, baking powder, and vanilla. Baking powder as an ingredient had just been invented in 1856 by a chemist named Eben Norton Horsford, and not long after people began to use it to make brownies and brookies (cookie brownies).
Since chocolate was just beginning to be used by the general masses and was still considered to be an ingredient enjoyed by the wealthy, many recipes of the time were based on the "blondie" brownie model.
Fun Facts About Butterscotch
Butterscotch is the main ingredient used to flavor brownies for National Butterscotch Brownie Day, so we thought that we'd take the time to investigate them further. When we did, we discovered that butterscotch has a rich, storied history that we feel everyone should know about. Below are the facts we've uncovered about it and would like to now share with the world.
Some culinary historians believe the name of butterscotch comes from the fact that the confection must be cut into pieces-a process that is known as scotching.
Another theory is that the name of butterscotch comes from its association with Scotland.
The word butterscotch was first used in Doncaster, England.
Butterscotch rose to popularity in the United States during the 19th century.
Even when butterscotch isn't actually used, people will refer to the flavor of brown sugar and butter as butterscotch flavor.
The difference between butterscotch and caramel is mainly the sugar. Caramel uses white sugar, while butterscotch uses brown sugar.
The difference between butterscotch and toffee is mainly how it's cooked. Butterscotch is boiled to the soft crack stage, while toffee is boiled to the hard-crack stage.
Observing National Butterscotch Brownie Day
If you want to enjoy this holiday, and we can't imagine who wouldn't, then all you have to do is to make or buy some butterscotch brownies. A quick search of the Internet reveals dozens of different recipes for blondies, so you definitely have a lot to choose one when selecting a recipe for these brownies.
While you're enjoying some butterscotch brownies on this day, don't forget to use the hashtag #NationalButterscotchBrownieDay to spread the word about it on your social media accounts.