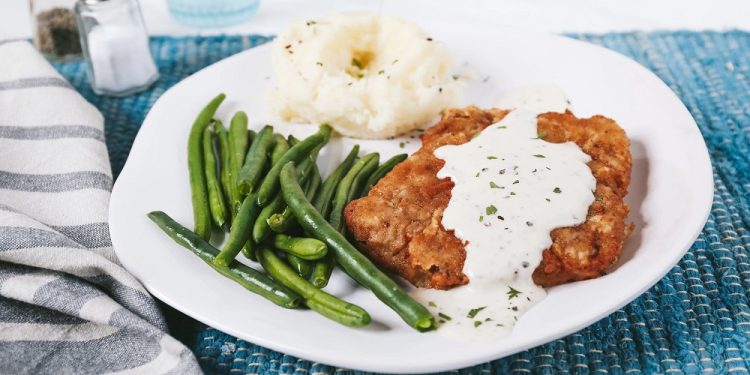 National Chicken Fried Steak Day
Chicken Fried Steak is a dish that many people in the South know very well. Also known as Country Fried Steak is a piece of beef steak (normally tenderized cube steak) that's coated with seasoned flour and then either pan-fried or deep-fried. It's called "chicken fried steak" because it's cooked in much the same way as Southern fried chicken is cooked.
It's a dish that's often covered in a "country" gravy and then served with sides that can include anything such as fried okra, corn, biscuits, mashed potatoes, coleslaw, green beans, macaroni and cheese, and wedge salads. This is a dish so loved that it has even earned its own holiday. A day known as National Chicken Fried Steak Day that's observed annually on the 26th of October.
The History Of National Chicken Fried Steak Day
Before we pull out our knife and fork and dig into National Chicken Fried Steak Day, we think that it's important to discuss the origins of chicken fried steak first. While the exact origins of this dish are currently unknown, it's normally traced back to the Austrian dish Wienerschnitzel.
A tenderized pork or veal cutlet that's coated with flour, eggs, and bread crumbs, and then fried. It's believed that when this dish was brought to the U.S by immigrating Austrians and Germans, it changed into the dish of chicken fried steak. Instead of pork, beef was used because it was common in the U.S and the Rahmsauce that was used to cover Wienerschnitzel was changed into a white gravy-based sauce.
As country fried steak continued to evolve in places such as Texas, Georgia, and Alabama, it became customized to the preferences of the people living in these communities. In 2011, the Lamesa Original Chicken-Fried Festival was launched in Lamesa, Texas in 2011.
This festival would eventually lead to the creation of National Chicken Fried Steak Day. This holiday is now celebrated not only in Texas but in communities all over the U.S. Chicken fried steaks have continued to evolve depending on the communities they are prepared in and new variations of this dish are coming out every day.
Observing National Chicken Fried Steak Day
Obviously, anyone wanting to observe this holiday is going to want to make their own chicken-fried steaks. The only question is what version of this dish should they make? Some people will want to go with the traditional chicken fried steak and believe it to be almost sacrilegious to make it any other way.
Other people like to play around with the dish a little bit by covering it with marinara, salsa, or other types of sauces. We have no opinion on the matter other than people should make the type of chicken fried steak that they like. And that they should use the hashtag #ChickenFriedSteakDay on social media to let us know what they made.