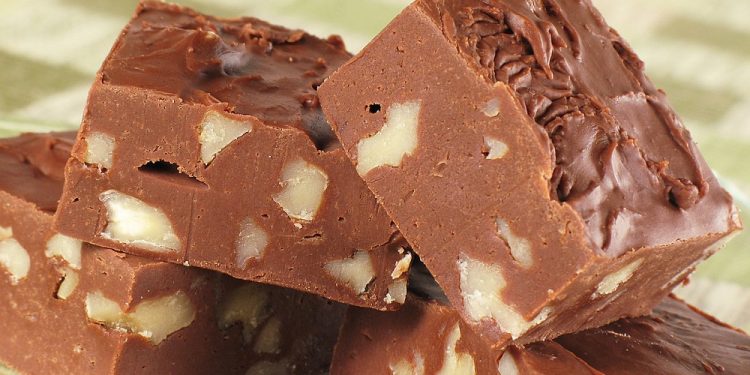 Fudge is excellent, but when you add nuts to it you take it to the next level. Nutty fudge is a delicious treat the combines the mouth texture of smooth fudge with the crunchiness of nuts. It's a dessert that can be embraced by all of the senses. No wonder someone decided that it should get its own holiday-particularly when there are so many other candy holidays out there. This holiday is observed annually on May 12th and is fittingly called National Nutty Fudge Day. It's a day to enjoy some decadent chocolate fudge that's filled with the nuts of your choosing.
The History Of Fudge
Okay, we've tried to find out who invented National Nutty Fudge Day and were unsuccessful in our attempts, so we decided to research the history of the object of this holiday: fudge. It was a bit easier to find out about the history of fudge than it was to find out the origins of this holiday.
It's believed that fudge was invented by an American sometime during the 1880s. Although we're not exactly sure who created it, most of the origin stories told, state that it was created by accident. That person had been trying to make a batch of caramels, but something went wrong. The sugar ended up crystalizing to which the person making the caramels allegedly used the phrase "Oh, fudge!" However, this was never officially documented.
The first documented case of fudge occurred in a letter written by Emelyn Battersby Hartridge. She was a student at Vassar College in New York. She wrote that a cousin of her schoolmate had made a batch of fudge in Baltimore in 1886 and sold it for 40-cents a pound. She ended up getting the recipe from him and making 30-pounds of fudge for the Senior Auction at Vassar. Over the years, she would end up perfecting her fudge recipe.
Fun Facts About Fudge
Do you feel like you need more fudge-based trivia in your life? Of course, you feel that way, otherwise, you wouldn't be in this trivia section. To help appease everyone wanting to know more about fudge, we've decided to go ahead and list some of the fun facts that we've learned about fudge.
Students at Vassar loved fudge so much during the 19th century, they would divert gas from their lamps to make it in their rooms.
Some people believe that the Americans stole the idea from the Scots. They had a medium-hard confection known as tablet that was similar to fudge.
Fudge is actually a drier form of fondant.
Observing National Nutty Fudge Day
There are a ton of different nutty fudge recipes that could be made for National Nutty Fudge Day and we encourage everyone to make their favorite. There are almonds, pecans, walnuts, macadamia nuts, peanuts, Brazil nuts, cashews, and a bunch of other nuts that can be added to fudge. If you'd rather not make your own fudge, you can always buy store-bought fudge, but we do recommend that everyone at least try to make their own at least once. While you're observing this holiday, be sure to use the hashtag #NationalNuttyFudgeDay to spread the word about it online.