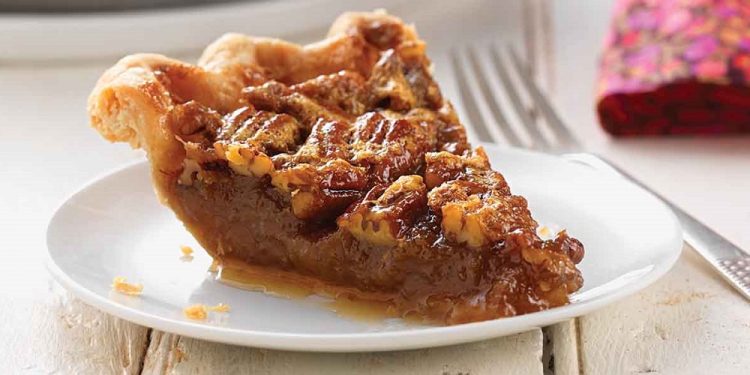 Observed annually on July 12th, National Pecan Pie Day is a holiday on which people can enjoy a dessert with a tradition in the United States that goes back at least 125+ years—if not longer. Pecan pie is a dessert that's traditionally made with corn syrup, pecans, vanilla, and a pinch of salt. This dessert can also be made with other addons such as bourbon or chocolate, or with whipped cream on top. It doesn't matter how you like your pecan pie, just be sure to celebrate this holiday when it rolls around.
The History Of Pecan Pie
Even though Karo Products has claimed to have invented the pecan pie in the past, they actually didn't invent it. Pecan pie's history can actually be traced back to the early part of the 19th century when people in the southern part of the United States began to make a variety of custard-based pecan pies. One of them even turned up in Mary Randolph's The Virginia Housewife in 1824. What is true about Karo's involvement in the role of this pie's history is that they helped to popularize it during the 1930s. They promoted a pecan pie recipe that is commonly known as Karo Pie nowadays. This pie was made with Karo corn syrup, eggs, vanilla, sugar, and pecans baked in a pie shell. 
Fun Facts About Pecans
Since we're all gathered talking about pecan pies, we thought that it might be fun to also talk about the history of pecans. Pecans are a nut that has quite a storied history and a few characteristics that set them apart from other types of tree nuts. Let's take a quick look at some of the facts that we uncovered about pecans.
Pecans are technically drupes and not nuts. That makes them more similar to peaches than hazelnuts.
The name pecan comes from the Algonquin word that means "a nut that needs to be cracked by a stone."
Pecan trees produce nuts every two years.
Approximately 90% of all pecans in the world are grown in the U.S.
The pecan is the state tree of Texas.
Pecan trees can live for over 3 centuries. 
In the 16th century, Spanish explorers called these nuts "wrinkle nuts" in Spanish.
Pecans are closely related to walnuts.
Thomas Jefferson planted a pecan tree in his orchard.
Observing National Pecan Pie Day
National Pecan Pie Day can be enjoyed by having a slice of this pie with a glass of milk. It's as simple as that. You can purchase the pecan pie at your local grocery store, or you can choose to make it yourself, it's really up to you. As you're celebrating this holiday, be sure to use the hashtag #NationalPecanPieDay to let everyone on the Internet know that you're celebrating this sweet holiday.