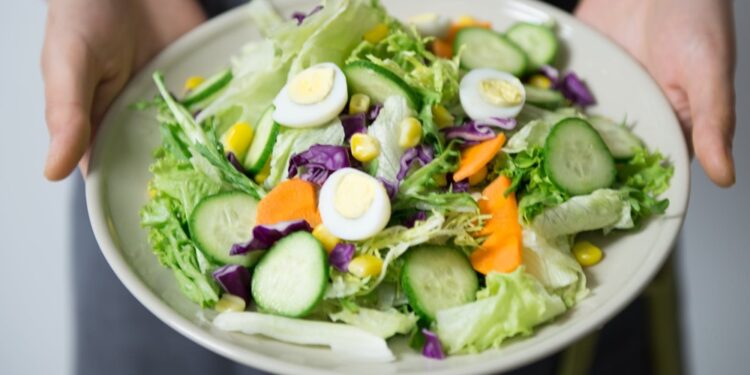 Since lettuce and spinach are great ways for people to get vitamin A, vitamin C, fiber, and other nutrients into their diets, they may want to mark May on their calendar. That's because this month is National Salad Month — a time for everyone to re-examine the role of salads in their day-to-day life.
According to recent surveys, the average American eats approximately 4 salads a week, but unfortunately, many of these salads are covered in high-calorie salad dressings that negate some of the benefits of eating a salad. That's why everyone is encouraged to think more carefully about the salads they buy or make in order to make better health choices.
The History Of National Salad Month
Although we're not entirely sure when National Salad Month was created, we believe that it was created during a time when American salad consumption was at an all-time low. This would be during the 1980s.
The popularity of salads would begin to grow again in the 1990s and is now at an all-time high. Even so, a lot of the salads made today are covered in high-calorie nuts, cheeses, and salad dressings. So maybe, just maybe, the focus of this month should be on not eating more salads, but instead on eating BETTER salads.
Facts About Salads
Let's talk about salads a little bit more by going over some of the facts that we've learned about them over the course of our research for National Salad Month. We found the following facts to be quite entertaining. Let's take a look, shall we?
The word "salad" comes from the Latin word for salt, "Sal." That's because the Romans used salted vegetables to make their salads.
The first known salad recipe was found in the 14th-century English cookbook called The Forme of Cury.
The 14th-century English salad was made with lettuce, spinach, and leeks that are covered in flowers, garlic, and herbs.
The term "Salad Days" refers to being young and inexperienced.
Observing National Salad Month
Although a lot of people advocate for eating more salads during this month, we think that people should emphasize quality over quantity. Instead of enjoying the same supermarket salad that you always enjoy, make a real salad with fresh greens, soft fruits, nuts, and cheeses. Maybe a few croutons on top.
Dispense with the salad dressings that are made with high-fructose corn syrup and instead opt for a simple vinegar and oil dressing. Now that's the way to observe National Salad Month. And while you're celebrating it, be sure to use the hashtag #NationalSaladMonth on social media.