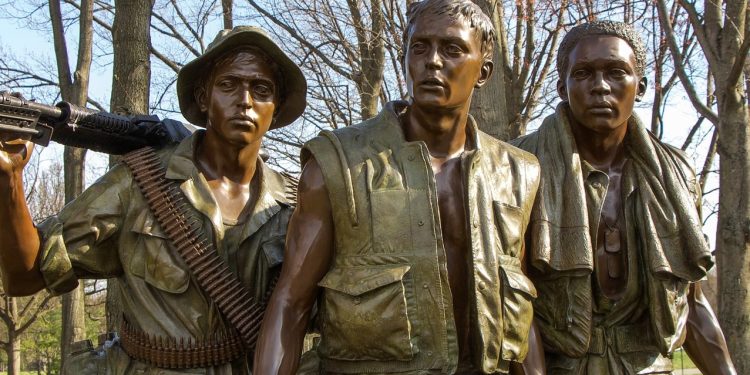 National Vietnam War Veterans Day
National Vietnam War Veterans Day is a commemorative holiday in the United States which recognizes the sacrifices that veterans and their families made during the Vietnam War. It is also a day to give proper recognition to the men and women who returned home from that war and didn't receive a proper welcome home. It's a holiday that's been celebrated since 1973 on either March 29th or March 30th of each year through a patchwork of state resolutions. However, in 2017, the date of the holiday was set as March 29th by U.S President Donald Trump. This day is now officially known as National Vietnam War Veterans Day.
History of the Vietnam War
Towards the end of the 19th century, the country of Vietnam became more gradually controlled by the French. They originally controlled it as a protectorate from 1883 through 1939, then they controlled it as a possession from 1939 through 1945. This changed on September 2, 1945, when the Nationalist leader Ho Chi Minh of Vietnam proclaimed the country's independence. On December 1946, the First Indochina War began in French Indochina. A conflict between French forces and their opponents, the Viet Minh who were asserting their independence. Most of the combat during this war would take place in South Vietnam but the conflict managed to engulf the entire country, as well as the surrounding countries of Laos and Cambodia. The conflict ended on May 7, 1954, when guerrilla fighters led by Ho Chi Minh successfully defeated French forces at Dien Bien Phu.
Also known as the Second Indochina War, the Vietnam War was a conflict where the U.S – as well as other members of the Southeast Asia Treaty Organization (SEATO)–joined with the South Vietnamese forces to contest communist forces in North Vietnam, Cambodia, and Laos. The war featured U.S and South Vietnamese regular and guerrilla forces pitted against the North Vietnamese Army (NVA) and North Vietnamese guerrillas known as Viet Cong (VC). The United States had the largest foreign military presence and directed the war from 1965 to 1973, which is why this war is widely considered to be an American War, although other parties were involved.  In 1975, South Vietnam collapsed and was replaced with a communist regime. On July 2, 1976, the entire country would become the Socialist Republic of Vietnam.
According to the U.S Department of Defense, over 8 million U.S troops served all over the world during Vietnam. Of these 8 million soldiers, sailors, airmen and marines, over 58,000 of them died in-theater.
The Vietnam War was the longest war in United States history. The war was also a very divisive time in the United States, as well as through much of Europe and Australia. Many veterans who returned home either didn't receive any recognition for their service, didn't receive the proper amount of recognition for their service or were outright protested against. These veterans would come home to a country divided over the debate about the war and many veterans had trouble readjusting to civilian life in the U.S.
As time passed, however, public sentiment about Vietnam veterans began to soften. While many people still viewed the war as wrong, they now felt that veterans of that war were only doing their duty to their county. Nowadays, many Vietnam veterans are finally receiving recognition for their service.
History of National Vietnam War Veterans Day
Over the last few years, 45 states had celebrated National Vietnam War Veterans Day, either on an annual basis or for the year it was enacted. However, not all of them celebrated it on the same day. Some states celebrated it on March 29th and some celebrated it on March 30th. Many people have felt that March 29th was the more appropriate date for it to fall on. After all, that is when the last prisoners of war (P.O.Ws) were returned to the U.S and when all combat troops were withdrawn from the war.
On February 26, 1974, issued a declaration urging the people of the United States to commemorate March 29, 1974, as National Vietnam War Veterans Day. Under this declaration, he urged all the government officials to fly the U.S flag on all public buildings and requested civic and patriotic organizations to give their support to any ceremonies or observances observed on that day.
On March 28, 2017, President Donald Trump signed the "Vietnam War Veterans Recognition Act of 2017." This bill amended title 4 of United States Code to encourage the flying of the American flag on National Vietnam War Veterans Day every year on March 29.
Commemorating National Vietnam War Veterans Day
On National Vietnam War Veterans Day, there are events to commemorate the service of Vietnam veterans. Many public buildings will fly the American flag on this day and many private citizens will as well. It's a good day to thank a Vietnam Veteran for their service or buy them a meal. All around the United States, there are usually commemorative events, speeches, honorary ceremonies and luncheons.
Another great way to celebrate National Vietnam War Veterans Day is by visiting the Vietnam Veterans War Memorial in Washington, D.C.
Conclusion
The Vietnam War was a divisive and difficult time for the United States and many veterans didn't get the recognition for their service they needed to receive, which is why commemorating this holiday is so important.